Alexa On Windows 10: Everything You Need To Know
Smarter Home Guide is supported by its audience. When you purchase through links on our site, we may earn an affiliate commission. Learn more here.
Using Alexa On Windows 10 has become much more useful since Amazon's hands-free update. Now, your PC is fully integrated into your smart home.
Windows users are at least somewhat familiar with Cortana, Microsoft's built-in voice assistant, but it's kind of obsolete when up against Amazon's Alexa. Most PC users seldom take advantage of its capabilities.
Luckily though, you can get Alexa on Windows 10 and it does just about everything Amazon Echo can do. Let's dig into how Alexa will operate on your Windows 10 PC, and why it may be the right choice as your virtual voice assistant.
We've somewhat eluded to the fact that Cortana isn't as powerful as Alexa. Alexa is powered by cloud-software and run by Amazon intended primarily to run on Echo devices. Cortana is also cloud-based software but was specifically intended for the Windows operating system.
Alexa is also capable of powering other compatible speakers and smart devices. She follows a broader range of commands and can answer more questions. There isn't any real reason not to install Alexa on Windows, especially being free.
Microsoft is obviously pairing up with Amazon and implementing the Alexa for Windows download for a reason. Why not take advantage of it and make use of this powerful software?
What is Alexa?
Alexa is most well known for powering Amazon smart speakers (Echo Plus, Echo Dot, Echo Show, etc). Using speakers, Amazon's cloud-services listen to your commands or questions and Alexa replies with the answers to your questions. Some common questions may include:
"Alexa, what's the weather like today?"
"Alexa, play my favorite playlist."
"Alexa, how long is my commute to work based upon traffic projections?"
Alexa utilizes previous information it has gathered based upon patterns in your life. If you store your favorite playlist, Alexa remembers this. If you have previously used Google maps or other mapping services, Alexa will project your drive times, based upon current traffic conditions from your home to work.
Alexa usually takes a couple of seconds to analyze information, and come up with a response to your questions. Something as simple as knowing whether to take an umbrella to work to stay dry for the afternoon rain shower is something you can prepare for with Alexa's help.
Around the Home
Alexa's a smart device. As such, it can do more than help you complete a few functions on your PC. As long as you have other smart devices around the home, Alexa can communicate with them as well. For example, you can prompt Alexa to turn on/off your smart lighting system at home. A few other functions it can perform while communicating with smart devices are:
Turning on and off your thermostat (Nest or ecobee4)
Opening and closing your smart blinds
Operating your home security system
Communicating with your garage door
With Alexa in place, you can utilize this smart system, to operate your smart home.
Now that you have a basic idea of Alexa's capabilities and the fact that it's a cloud-based software platform (not the actual speaker system), you can see the value in utilizing such services. So, let's see how you can utilize Alexa on Windows 10 to make your everyday tasks, projects, and workday a little more manageable.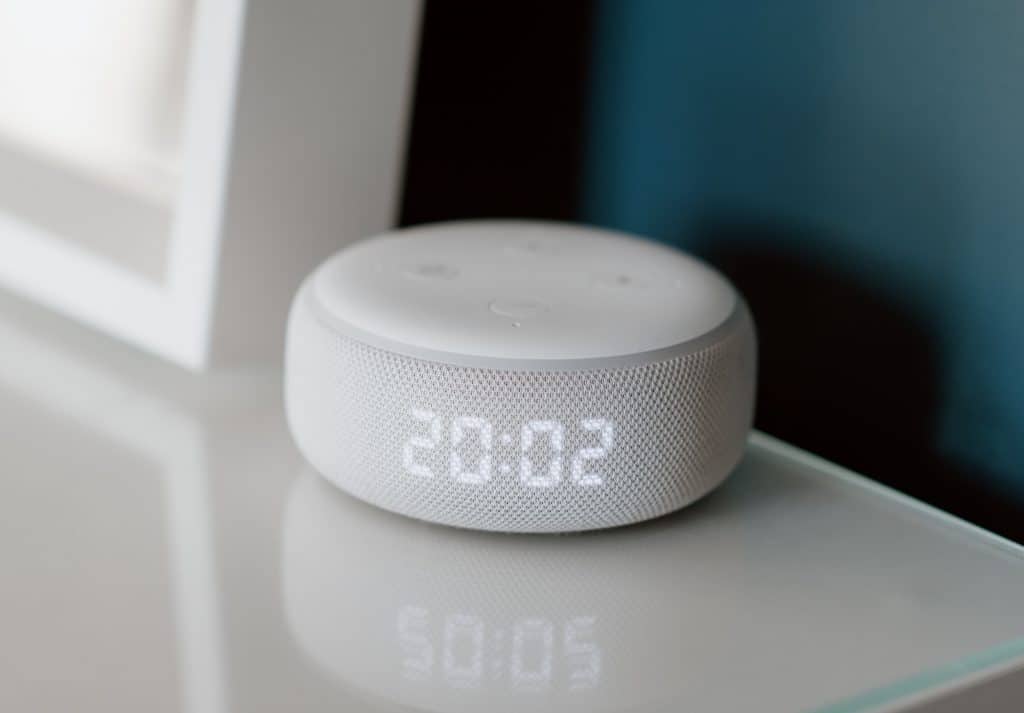 Where can I Download Alexa for Windows 10 and How do I Install it?
Alexa is available for download through the Microsoft Store (Click Here to download).
Go to the start menu and open the Microsoft Store app
Search for Alexa
Check system requirements (and update to the latest version of Windows 10 if not already updated)
Select "Get"
Once you choose this option, just follow the onscreen prompts to download. You'll be asked where you want to save the app and how to open it. Once downloaded, there are a few more steps you'll take before you can start firing your questions Alexa's way. Alexa will guide you along the way.
Setting up Alexa on Windows 10
Once downloaded, you'll simply open up your Amazon account and log into the system. You'll select your user settings for Alexa, specific prompts, and give permissions for Alexa to operate on your PC. From there, you're ready to go!
You can also choose the option to "launch Alexa upon startup", so she's ready to go and start answering your questions from the moment you log into your desktop.
Now you are going to go through a series of questions to set Alexa up to utilize how you want to use the cloud-based software. First, you'll be asked if you want to use Alexa hands-free or by clicking a button.
Remember that with voice-controls, you're going to use more battery. So, if you're on a laptop, the button-touch system might help save some battery power if this is of concern.
The last series of questions you'll get is if you want to:
Prompt Alexa to start up when you turn your computer on
Allow app sounds
Pin Alexa to your taskbar
You select which of these, if any, you want to do when using Alexa on Windows 10. The download and setup process is extremely straightforward, and shouldn't take more than a couple of minutes to complete. Now, you're ready to start talking to Alexa and asking your questions.
What Does Alexa do on the Windows 10 Platform?
Alexa does almost everything on Windows 10 that it does on the Amazon Echo devices, however, there are some limits as to what its capable of on your computer. You can, for instance, ask for local/area-based weather information, or information about local establishments, restaurants, or stores. Alexa will recognize location-based questions.
Some other things you can do include:
Store appointments using your calendar, and inform you of them
Do research if you have a specific question on a topic/reference point
Play your favorite playlist or a song off Youtube
Turn on/off smart devices in your home
For the most part, Alexa can do almost anything it normally does on your Windows 10 device.
What Alexa Can't do on Windows?
There are a couple of small drawbacks of utilizing Alexa on your PC as opposed to using it on your Amazon devices. Alexa can't compose a text message for you using your computer as she can with an Echo for instance. Alexa can't compose an email for you either (however, it does take you to your inbox if you ask it to).
It can also "reply" to an already received email. There are limits on "wake" words as well (this is the word you use to, wake Alexa up and ask it to perform a task). On an Echo, you can simply ask Alexa to change the wake word to something else (heads up though, you're limited to a few options even there).
Can Alexa on Windows 10 Control my PC?
Not just yet… however, these commands might be in the works and available very soon. There are some restrictions when using it on Windows 10 however, as to the words it will allow you to set up as a new wake word.
You can't control Windows 10 specifically using Alexa yet. With this in mind, Amazon is planning on adding Windows-specific commands for future versions and updates, so this is likely soon to change.
Additionally, if Alexa is downloaded through the web app, and customization functions are set up by the user, it's possible to modify some of the ways in which you can use Alexa with Windows 10. So, look out for updates, update Alexa frequently, and customize it to tailor to your specific needs, to ensure the best functionality on your Windows devices.
Update: you can now connect Alexa to Cortana. Click here to learn more.
Basic Alexa commands on Windows 10
Although updates are still on the way, there are some commands that you'll find useful with Alexa, which Cortana didn't offer. Some of the commands you can utilize when using Alexa on Windows 10 include:
Asking for help: "Alexa, help"
Mute or unmute: "Alexa, mute or unmute"
Having a conversation: "Alexa, let's chat"
Stopping/pausing or changing the volume: "Alexa stop/pause or Alexa increase/decrease the volume"
You can also set up time and date commands for alarms. You can ask Alexa to change your region/settings for a different time zone. Schedule times to watch your favorite shows. Ask Alexa to remind you to do something or provide a notification of something. You can set up a to-do or a shopping list and save it with Alexa.
Conclusion
While there are some commands which Alexa still can't accommodate on Windows 10, if you already have a PC, you can create a free Amazon account and don't really need an Echo. I find Alexa much more versatile than Cortana, so this is an easy choice for me.