Best Smart Shower Heads – What, Why, and Which Ones To Buy
Smarter Home Guide is supported by its audience. When you purchase through links on our site, we may earn an affiliate commission. Learn more here.
When someone says smart home, you rarely think of the bathroom. Most of us picture a high-tech lighting system, smart TVs, or perhaps, security cameras… but, smart shower heads?
Yes, that's right. There are even smart shower heads and complete digitally controlled smart shower systems.
People tend to spend between 30 minutes to 1 hour in their bathrooms per day. This can add up to be a couple of years over the course of your lifetime! You might as well spend it in luxury. Plus, we're going to justify that luxury by helping the environment!
In this article, you're going to learn what a smart shower head really is, why you need one in your home, and then we'll give you a list of the best ones on the market.
What is a Smart Shower Head?
Smart shower heads are products designed to add smart technology to traditional shower fixtures. Their features may include things like built-in BlueTooth speakers, companion apps for your smartphone, and/or the ability to monitor temperature, consumption, and water pressure.
It is important to note that the term "smart shower head" holds a different meaning for each manufacturer. Some models are designed to be eco-friendly, some are designed for luxury and others accomplish both.
Some smart shower heads can easily be managed from your mobile phone or even a virtual assistant such as Alexa or Google Assistant.
Why Do You Need A Smart Shower?
Do you technically need a smart shower? Probably not… You very well may want one though!
The number one selling point for some people may be the ability to conserve water. This saves you money and is awesome for the environment. For others, you want one that allows you to listen to music. For me, I enjoy the luxury of digital shower controls.
Smart shower heads (and systems in general) can offer precise temperature control capabilities. In some cases, they even have built-in Bluetooth speakers. If you've had a hard day at work or an extreme workout at the gym, wouldn't you want the very best shower head to freshen up with?
Also, if you are in the process of, or are considering upgrading your home to a smart home, then a smart shower is perhaps the coolest modification for your bathroom. These systems offer a spectrum of features that vary based on your budget and specific needs.
Here are some of the possible features of a smart shower:
Monitor the Rate of Water Flow and Temperature
Control Shower Remotely via Bluetooth or Wi-Fi
Multiple Shower Head Options
Timed Showers and Eco Friendly Settings
Preset Settings to Save Time
These devices have a knack for leveling up your bathroom experience. Do you need them? Well, no, but they're great to have if you can afford it. Plus, if you opt for a smart showerhead instead of an entire system, it's a pretty budget-friendly upgrade.
Digital Shower Control
The concept of Digital Shower Control allows you to precisely govern and monitor the water flow in your shower. These systems can permit you to set your temperature with pinpoint accuracy, monitor and pause water flow, adjust pressure and rotate between multiple outlets.
In many cases, this can be done from an app on your smartphone.
Unlike traditional showerheads, digital showers have a digital thermostat to go along with the shower unit. The setup will generally include a control panel installed in the shower or within reaching distance.
These control units have the ability to communicate with the digital shower via wireless technologies or via hardwiring. This grants you unrivaled control over your shower experience.
Some digital shower controls also allow users to pre-program the perfect temperature for their shower with the single touch of a button. Other characteristics also include color-coded LEDs and touchscreen displays.
Let's take a look at some smart shower products, some of which will include digital shower controls.
KOHLER Moxie Bluetooth Shower Head Speaker
Best Shower Head Smart Speaker
Pros
The Bluetooth speaker sounds amazing for its compact size
Microphone is very responsive and easily responds to a large variety of commands
Detachable for use outside the shower
Cons
Does not include various spray settings
Requires charging
Features
Detachable Bluetooth waterproof speaker
Comes with a built-in Alexa virtual assistant
Angled nozzles for full coverage
Kohler's Moxie Showerhead is designed to add some tunes to your shower routine. That's right, this smart shower device doubles as a waterproof Bluetooth speaker.
It's not just any Bluetooth speaker though. The audio portion was designed by Harmon Kardon and it has Amazon's Alexa voice assistant built right in. Ask Alexa to put on your favorite playlist, set a reminder, add an event to your calendar or even unlock the front door.
The Moxie works as a regular Bluetooth speaker outside of the shower.
Held in place with sturdy magnets, the speaker is easily pulled free for charging or use outside of the shower. You can get about 6 hours of playtime out of a charge, which should be a lot of showers (assuming you don't have teenagers).
Installation is a breeze and the Bluetooth setup is pretty self-explanatory. I just wish it had the ability to adjust between different shower spray settings.
Atomi Shower Bluetooth Shower Head
Best Budget Option
Pros
Bluetooth design allows you to answer your phone in the shower
84 angled nozzles for wide area coverage
Cons
The Bluetooth speaker is iPx4-rated (splash proof but not submergible)
Features
Built-in bluetooth speaker
Built-in mic so you can answer phone calls
Speaker is detachable for use out of shower
The Atomi Bluetooth Showerhead is a budget-friendly showerhead/speaker design. You might be surprised at the amount of water distribution this thing provides for its price though.
With over 80 angled nozzles, it's actually a pretty luxurious experience. Of course, the Bluetooth speaker enhances the overall experience, producing a pretty decent tone overall.
While this showerhead doesn't have Alexa, it does have a built-in mic like the Kohler Moxie, so you can answer your phone calls without stepping out of the shower. Like the Kohler Moxie, this battery will also give you about 6-hours of playtime.
The weight of the showerhead does prevent the angle adjustment from holding in place sometimes. I'm sure there's a fix for this I just didn't think of. Again, installation and setup are a breeze, unlike the next 2 devices on our list.
Check out our article on The Top 5 Google Assistant Shower Speakers.
WaterHawk Smart Shower Head
Best Eco-Friendly Smart Shower Head
Pros
Refreshingly simple installation and usage
LED display tracks cumulative water usage temperature and volume in real-time
Users can read their shower setting at a glance
Cons
The surrounding nozzles aren't angled toward the center for better coverage.
Features
No batteries or power supply needed
LED eye display and color indicator
Displays water temperature
Tracks water consumption
The WaterHawk Smart Shower Head is a great example of stealth tech. At first glance, this fixture may seem like a traditional shower head with a 6.25″ diameter rain shower head design. However, you'll certainly notice the digital screen situated in the center.
This 2.25″ LED screen displays the temperature and water consumption in gallons. The ring light indicator offers an at-a-glance color indicator so you know when your water is ready.
The green light means that the water temperature is within a recommended window of between 90 degrees and 108 degrees Fahrenheit (or 32 degrees and 40 degrees Celsius). A blue ring means it's below 90 degrees and a red ring means it's above 108 degrees.
The coolest part about this device for me is that it's powered by a built-in hydroelectric generator. So, your water flow is actually providing the energy for the display.
Ello & Allo Smart Shower Tower
Easiest To Install Complete Smart Shower System
Pros
Complete shower system in one unit
6 shower modes to choose from
Elegant design
Cons
Difficult to install unless you're a plumber/handyman
Not the best choice if you don't have a shower door
Features
Waterfall shower mode
Rainfall shower mode
LED display
SUS304 Stainless Steel
Wall-mounted installation
Ello & Allow's Smart Shower Tower is a lot more than just a smart shower head. It is a luxurious and holistic stainless steel shower system.
This unit replaces all of your shower fixtures from the showerhead and detachable sprayer to the bath spigot and even the shower knob. Everything about it screams contemporary design.
The LED lights add a high-tech feel to the entire experience. This model comes in a brushed nickel finish, but there are other similar models by Ello & Allow which come in brushed black.
They've strategically designed the unit with many combinations of adjustments to customize your shower into a personalized spa treatment.
The panel can be switched between a hand shower, water spout, rainfall, waterfall, and horizontal massage spray mode (body jets). Aside from different shower modes, you also can control the spray patterns.
The only downside is that the system only allows you to use two modes at one time. Anything more than that would likely affect the water pressure anyway though.
It's easy to see why this has become such a popular item for bathroom remodels lately.
Upon installation, keep in mind the height of everyone who'll be using the shower. For instance: if you're 6'2″ and your partner is 5'4″, you'll want to mount it high enough for yourself, but not so high that the body jets spray your partner in the face.
Moen TS3302B U Digital Shower
Best Smart Shower System
Pros
Compatible with Siri, Alexa, Google Assistant and HomeKit
Controlled remotely
Elegant and minimalist design
Cons
A little pricier than other smart shower heads
Will require at least partial remodeling
Features
Precise temperature control
Soft-touch buttons
LCD screen
Remote and voice activation
Full customization
The U by Moen Smart Shower (links found below) is the perfect example of a digital shower control. This would certainly be the way to go if you fancy yourself a handyman.
This system is composed of two elements. The first being the Digital Control Panel and the second being the Digital Thermostatic Valve. There is also an option to purchase the backup battery supply in the case that your power goes out.
Depending on which version you opt for, it will allow either 2 or 4 shower outlets. So, most likely you'd go for a hand shower and your choice of shower head with 2 outlets and add 2 body jets with the 4 outlet model.
While your shower fixtures could be any number of finishes, the control panel comes in either Terra Beige or Matte Black. You'll come to see that the control panel can be placed in a way so that it doesn't necessarily have to match the other fixtures in my opinion.
What about smart home compatibility? Well, the U by Moen is compatible with virtual assistants such as Alexa, Google Assistant, Siri and even Apple HomeKit. The downloadable app also allows you to operate your shower and change your settings.
One awesome feature is the ability to add up to 12 personalized presets. You could have a couple for everyone in the family. For instance maybe you like a steaming hot overhead shower in the morning and a cool shower which utilizes the body jets after your workout.
Other features include being able to pause your shower once the temperature is ready and the option to use a shower timer to keep you moving.
Now, accordinccording to their website, the installation process of this smart shower system is quite simple. However, in reality, installing it will require at least some remodeling and technical experience.
Here is a quick glance of what to expect in your setup: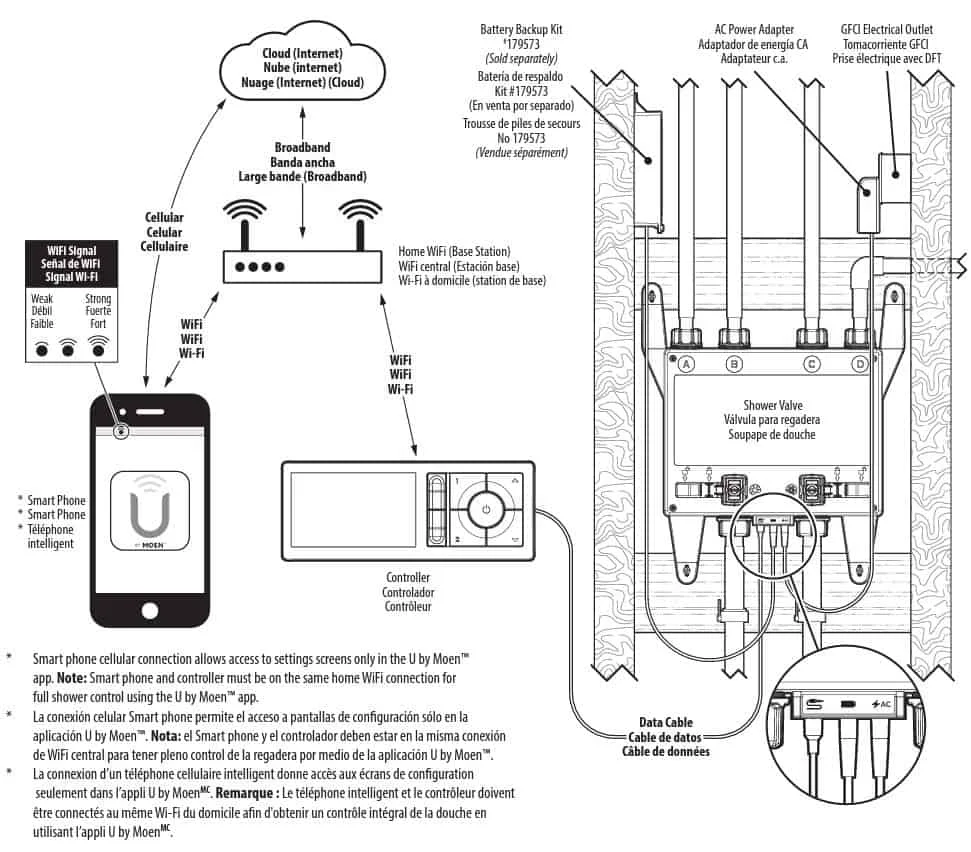 The U by Moen takes technology and luxury and packages into an elegant, minimalist design that blends into your bathroom decor. Once you have the ability to walk from your bed to the bathroom with the shower all set, you'll likely be wondering where this has been your entire life.
Add an Alexa compatible coffee maker on the vanity, and you could be ready to take over the world by 8am.
Conclusion
One of the most obvious reasons to have a smart shower head or system in your home is to experience enhanced convenience and efficiency in your bathroom.
EPA statistics show that at least 20% or about 200 billion gallons of water flowing out of shower heads in the US goes to waste. Smart shower systems like WaterHawk Smart Shower Head help you achieve your water conservation goals. Such units reduce water wastage to a bare minimum and even automatically stop the flow of water within a specified time frame.
Sustainability aside, you may just be looking for a way to get a jolt out of your morning routine or your daily showers by listening to some music without putting your mobile phone in harm's way. If this is the case, a smart shower head like the KOHLER Moxie Bluetooth Shower Head Speaker may be the perfect option for you.
If you're in search of all of a more luxurious spa-like experience to go with the elegant bathroom interior in your home, you need a more holistic smart shower system. We're talking about the Ello & Allo Smart Shower Tower and the U by Moen. These systems may have a bigger price tag, but they are worth every penny!