The Most Common Google Assistant Problems(& Solutions)
Smarter Home Guide is supported by its audience. When you purchase through links on our site, we may earn an affiliate commission. Learn more here.
Google Assistant is a cutting edge, A.I. driven digital assistant most often used in smartphones and with smart home gadgets. Like Siri and Alexa, it can interact with other devices and applications to perform various tasks.
In a perfect world, technology would work without a hitch all of the time. However, sometimes things don't go as planned. While Google Assistant is a robust technological wonder, it is no exception when it comes to giving the occasional error message that can cause people to feel frustrated.
In this article, we are going to share some helpful tips and troubleshooting ideas for problems you may encounter when using Google Assistant.
How to Turn On Google Assistant
Google has made it very easy and intuitive to turn Google Assistant on using your Android phone. Enabling Google Assistant could mean having to do a couple things, but the process is the same. These steps will walk you straight through the process.
Make sure the application is downloaded and installed on your Android Phone or Tablet.
Say the phrase "Hey, Google".

If Google Responds, then everything is working properly. State your question or command within 10 seconds.
If Google Does Not Respond, proceed to step 3.

Hold down the Home Screen button.
Click "Turn On"
If your permission settings don't already allow Google to access your microphone, then you will be prompted to "Allow All The Time". This will have to be selected to use Google Assistant.
Now, when you want to use Google Assistant, all you have to do is say "Hey, Google", or hold the Home Screen Button.
Turning Google Assistant Off
There's always the chance that you don't want to use Google Assistant for anything. I, personally, can't imagine not using it in my car for directions and other hands-free activities, but everyone has their reasons. Maybe you're worried about privacy, which can be a legitimate argument. Either way, you can always decide to turn it back on if you change your mind.
Follow these steps to turn off your Google Assistant:
On your Android phone or tablet, touch and hold the Home button or say "Ok, Google."
Click the icon in your bottom left-hand corner.
3. Select your profile picture in the upper right hand corner.
4. This will bring you to your settings page for Google Assistant. Scroll down and select "General".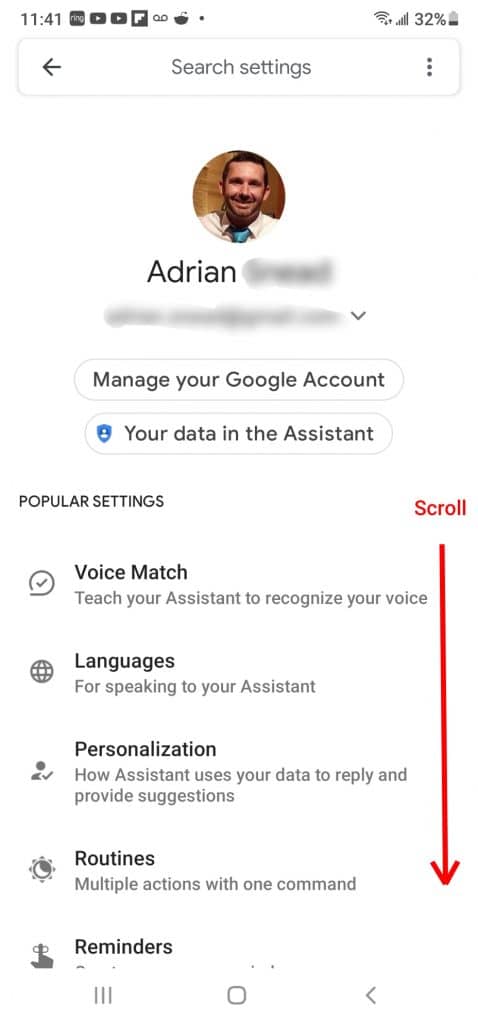 5. Toggle Google Assistant off. A screen will pop up confirming your decision. Click "Turn Off".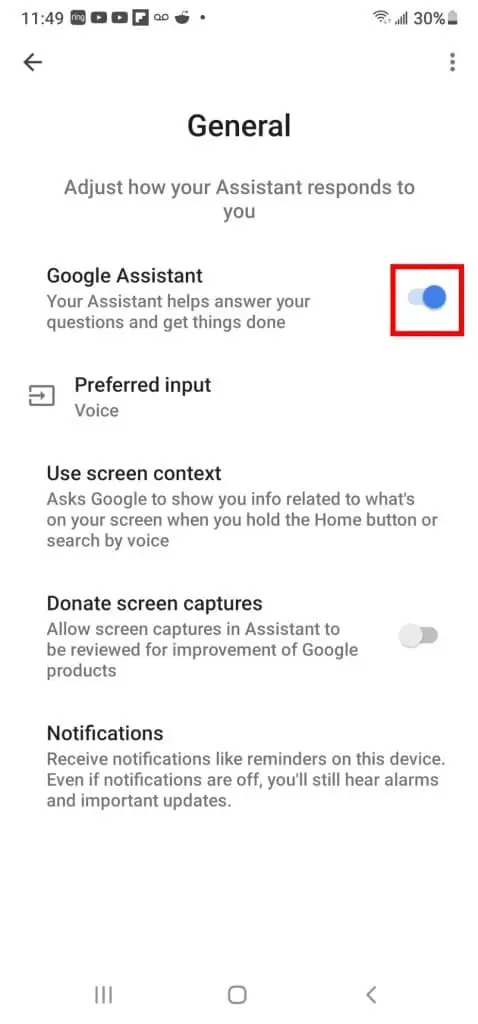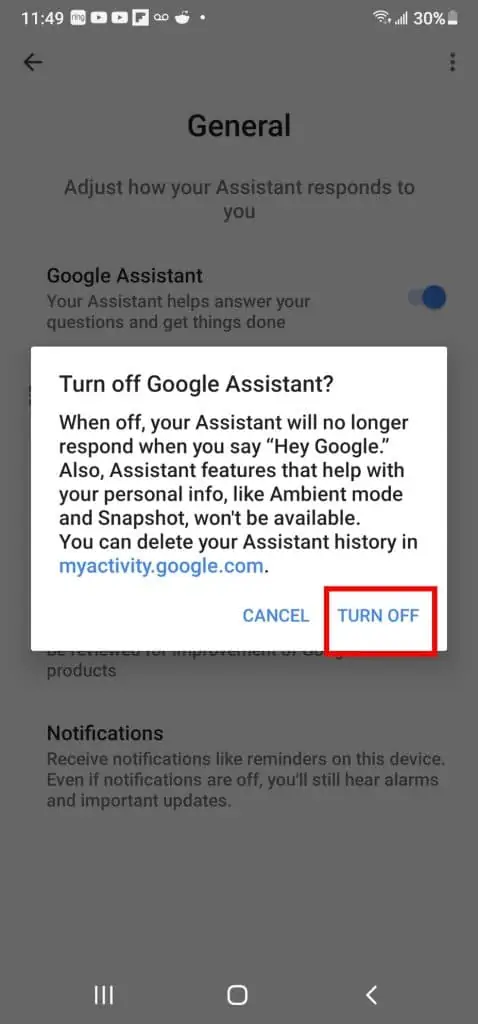 Now, Google Assistant will be deactivated unless you decide to turn it back on.
Enable Google Voice Activation:
If you cannot get the response from the Assistant on your smartphone, then you must check for the feature if it is turned on. If this feature is toggled off then, your Assistant will not open with voice. You can enable this feature in the settings:
Hold down your Home Screen button.
Click the icon on the bottom left-hand side of your screen.
Select your profile picture on the top right-hand side.
Tap "Voice Match"
Toggle On "Hey Google"
This should easily enable your voice activation for Google Assistant on your phone.
How To Retrain Google Assistant – Voice Match
Retraining your Google Assistant refers to the Voice Match feature. Google Voice Match allows Google Assistant to recognize individual users by the sound of their voice. When you use the Assistant for the first time, it walk you through this setup.
It may be that you'll, at some point, need to retrain Google Assistant to recognize your voice. It's extremely easy to do, just follow these steps:
Hold down the Home Screen button.
Click the icon in the lower left-hand area of your screen.
Select your profile picture on the top right of the screen.
Press "Voice Match"
Select "Voice Model"
Click "Retrain Voice Model"
Following step 6, you'll just follow Google's instructions as they walk you through the Voice Match Training. Here is an Illustration:
Google Voice Match Not Working?
Sometimes when setting up Google Voice Match, you may experience issues. The most common occurrence is the Voice Match process freezing and becoming stuck in limbo saying "Please Wait". The status wheel will spin, seemingly forever.
If you encounter this issue, follow these steps and it should fix you Google Voice Match:
Open your Android Settings.
Click "Apps" (Could also be under "Applications", "App Settings", or "Default Apps").
Select your Google Assistant App (Should be under "Assistant")
Press "Force Stop"
Check to see if this resolved your problem. If not, go to step 6.
Back under your Google Assistant App settings, select "Uninstall".
Reinstall the Google Assistant App from your Google Play Store.
Open your Google Assistant App and reinitiate setup process.
Most likely, this will fix your problem!
Common Google Assistant Error Messages
Using Google Assistant tends to work great most of the time, but there will be the rare occurrence where you have a glitch. These are the most common error messages that you are likely to come across.
"Something Went Wrong"
It's hard to know what exactly is wrong when Google doesn't tell you. That being said, they will at least tell you that it's "Something". Sometimes you'll get a message that simply says "Something Went Wrong" while using Google Assistant.
Fortunately, there is a process you can follow to fix whatever "something" is:
Solution:
Note: If this is your first time using Google Assistant, you may want to make sure your phone meets the necessary requirements. You can check that out by clicking here.
Follow each of these troubleshooting steps in this order until you've corrected the issue.
Toggle Google Assistant Off and back On. There is a graphic illustration of how to do this above (click here).

Hold down the home button.
Select the button on the bottom left of the screen.
Click your profile picture on the top right hand side of the screen.
Scroll down and select "General" (settings).
Select "Google Assistant"

Clear the Google Assistant Cache.

Go to your phone settings.
Select Apps (or Applications)
Find Google Assistant (Probably under "Assistant")
Select Storage
Press Clear Cache
"Can't Reach Google At The Moment"
The "Can't Reach Google at the Moment" message is one that is commonly displayed when there are connectivity issues with the internet. Coming across messages like these can be very frustrating, but there is usually a simple solution to this problem. This message is one that tends to show up the most when your phone has been overworked.
Solution:
Try trouble shooting this error message with these troubleshooting steps. After each step, check to see if it has resolved the issue.
Do you have a data connection? Check your WiFi or cellular data connection.
Try clearing the Google App Data: Go to Settings -> Apps -> Google -> Storage -> Manage Storage -> Clear All Data

If this doesn't work, try forcing stop on the Google app: Settings -> Apps -> Google -> Force Stop
After this is done, hold the Home Screen button until Google Assistant pops back up.

Repeat the same process (step 2) for the Google Assistant App. *The Google App and the Google Assistant App are connected. This is why it could be an issue with either of the 2 apps.
Try restarting your phone.
Another way that sometimes resolves this issue is by uninstalling and reinstalling the Google Assistant app: Settings -> Apps -> Assistant -> Uninstall

To reinstall, just go to your Play Store App and search "Google Assistant".
"Google Assistant is Not Connected"
Another message that can pop up sometimes is "Google Assistant is Not Connected". This usually occurs when users are connecting new BlueTooth headphones to their android phone.
The good news is, this is usually fixed pretty quickly:
Solution:
Firstly, if your headphones have a companion app, make sure that is installed and enabled.
Reset the BlueTooth connection between your phone and your headphones:

Open your BlueTooth connection in your phone settings.
Click Settings -> Unpair
Turn your headphones back on and select Scan in your BlueTooth settings.
Re-pair your headphones.

Once this is done, there should be a notification asking you to turn on notifications and permissions for Google Assistant.

If this doesn't work, you'll need to manually grant permissions.

Click the "G" in your Google search box
Select "More"
Go to "Settings"
Click "Voice"
Toggle on "Allow BlueTooth requests with device locked"
Go to "Voice Match"
Make sure "Hey Google" is toggled on.