Using A Fitbit For Cycling
Smarter Home Guide is supported by its audience. When you purchase through links on our site, we may earn an affiliate commission. Learn more here.
Fitbit is undeniably one of the biggest names in the wearable smart technology field, aimed primarily at promoting a healthier lifestyle. At the very least, you know it's capable of tracking steps (because we hear everyone talking about their daily number), but what about using a Fitbit for cycling?

Whether you're new to their products, or you've been sporting every model Fitbit has released to date, it's clear that the company has risen to meet the needs of health-driven society.

Heaps of information could be dissected on all that Fitbit products have to offer, but the focus of this article will be using your Fitbit for cycling.

We'll explore various aspects of using Fitbit products for your biking needs, including:

Which product is best for tracking my cycling progress?
Which features are best suited for cycling?
I already use my phone to track my fitness data, can I still benefit from a Fitbit product?
I'm not a daily rider, are Fitbit products still useful?
Whether you're looking to start a new routine or looking for more ways to track your existing routine, Fitbit should meet your needs and then some.
Let's start with the basics!
Can Fitbits Products Track Your Cycling?
Yes, Fitbits can track your bike rides using a technology called SmartTrack and they're very helpful for cyclists in a lot of ways. Not in the "step counting" aspect you're use to hearing about for runners (although it will be tracking your steps), but your Fitbit is going to help you track your cycling progress with more useful and detailed data.
Fitbit products are often marketed as "activity trackers," but what do they include for cycling? One distinct feature of many Fitbit products, that has proven essential for cycling, is GPS integration and functionality.

GPS Integration allows users to not only track their routes but also track information like pace and distance as well. Some models even have built-in GPS, allowing for route tracking without your phone!

Fitbit products also offer customizable exercise modes with a wide variety of features, some specifically designed to help record your cycling.

Here are some of the cycling data you can track and record with your Fitbit:

Average Speed
Duration
Distance
Calories Burned
Heart Rate
As an added bonus, many of the Fitbit models can also track stationary bike exercises, making it easier to stay consistent with your routines. You can compare data between your indoor workout with your outdoor cycling. Additionally, you can also view a map of the route you traveled using the associated desktop app.
Best Fitbit Products for Tracking Cycling
Fitbit offers a variety of products, ranging from smart wearable technology to Bluetooth scales. Ultimately, you have the power to decide which features can best accommodate your exercise routines.

Fitbit offers several models with built-in functionality for tracking cycling:
Image
Title
Price
Prime
Buy

Top

Fitbit Sense 2 Advanced Health and Fitness Smartwatch with Tools to Manage Stress and Sleep, ECG App, SpO2, 24/7 Heart Rate and GPS, Shadow Grey/Graphite, One Size (S & L Bands Included)

Prime

Eligible

View On Amazon
Fitbit Luxe Fitness and Wellness Tracker with Stress Management, Sleep Tracking and 24/7 Heart Rate, One Size S L Bands Included, Lunar White/Soft Gold Stainless Steel, 1 Count

Prime

Eligible

View On Amazon
Fitbit Inspire 3 Health & Fitness Tracker with Stress Management, Workout Intensity, Sleep Tracking, 24/7 Heart Rate and more, Midnight Zen/Black One Size (S & L Bands Included)

Prime

Eligible

View On Amazon
Fitbit Versa 4 Fitness Smartwatch with Daily Readiness, GPS, 24/7 Heart Rate, 40+ Exercise Modes, Sleep Tracking and more, Waterfall Blue/Platinum, One Size (S & L Bands Included)

Prime

Eligible

View On Amazon
Product prices and availability are accurate as of the date/time indicated and are subject to change. Any price and availability information displayed on [relevant Amazon Site(s), as applicable] at the time of purchase will apply to the purchase of this product.
Prices pulled from the Amazon Product Advertising API on:
Fitbit Sense 2 vs. Versa 4 vs. Luxe vs. Inspire 3
| | | | | |
| --- | --- | --- | --- | --- |
| | Sense 2 | Versa 4 | Luxe | Inspire 3 |
| SmartTrack | ✔ | ✔ | ✔ | ✔ |
| GPS | Built-in | Built-in | Connected GPS | Connected GPS |
| Steps, Distance, Calories | ✔ | ✔ | ✔ | ✔ |
| Heart Rate | ✔ | ✔ | ✔ | ✔ |
| Resting Heart Rate | ✔ | ✔ | ✔ | ✔ |
| Breathing Rate | ✔ | ✔ | ✔ | ✔ |
| Blood Oxygen (SpO2) | ✔ | ✔ | ✔ | ✔ |
| ECG for Afib Detection | ✔ | ❌ | ❌ | ❌ |
| Smart Notifications | ✔ | ✔ | ✔ | ✔ |
| Built-in Alexa | ✔ | ✔ | ❌ | ❌ |
| Water Resistant | 50m | 50m | 50m | 50m |
| Battery Life | 6 Days | 6 Days | 5 Days | 10 Days |
| Built-in Bike Mode | ✔ | ✔ | ✔ | ✔ |
Which Fitbit Should I Get For Cycling?
We're going to help you answer this by establishing your priorities. We'll categorize them by best by budget-friendly, feature-packed, best battery life and best overall for cycling.
What Is The Best Budget-Friendly Fitbit?
Fitbit Inspire 3
The Fitbit Inspire 3 is a great, cost-efficient option available for tracking cycling routines, especially if you're not looking for a smartwatch alternative. It's inexpensive, while still offering many features of competing fitness trackers (connected GPS, distance tracking, Blood Oxygen, heart rate, etc.). You can also track your cycle routes using the integrated SmartTrack feature.
What Is The Most Feature-Packed Fitbit For Cyclists?
Fitbit Sense 2
The Fitbit Sense 2 is chock full of features for cyclists. It has a wide range of Health, Exercise, and Smart Features. Additional capabilities include enhanced stress management features, a skin temperature sensor, and an ECG app to assess your heart rhythm for atrial fibrillation.
Which Of Our Fitbit Picks Has The Best Battery Life?
Fitbit Inspire 3
Fitbit Inspire 3 offers a lengthy 10-day battery life, so you're not constantly needing to charge it. The last thing you want is to run out of power mid-session. And you read right! – The Inspire 3 is also our best budget pick, making it a competitive, battery-efficient choice for your cycling needs. What you gain in battery life and savings, however, you'll lose in some features.
What Is The Most Fashionable Fitbit For Biking?
Fitbit Luxe
For those ladies who want to bike in style, the Fitbit Luxe is an excellent choice. It offers all of the same great health-tracking features that make the Inspire 3 perfect for cycling but adds a little style and bling. The only downside is that it offers the lowest battery life on our list at just 5 days.
What Is The Best Overall Fitbit For Cycling?
Fitbit Versa 4
The Fitbit Versa 4 is an excellent choice for tracking your cycling routines. It has built-in GPS so you aren't always tied to your phone and actually comes in a little better priced than the Sense 2. With its long battery life, SmartTrack technology, and built-in GPS tracking, the Fitbit Versa 4 is a great companion for cyclists. While the Sense 2 does have all the features this one has, plus some, this has all the important features, without the fluff with a better price tag.
| | |
| --- | --- |
| Most Affordable | Inspire 3 |
| Most Features | Sense 2 |
| Best Battery Life | Inspire 3 |
| Most Fashionable | Luxe |
| Best Overall | Versa 4 |
Note: These are the best Fitbits in each category we have named specifically for cycling.
Using The GPS Feature On Your Fitbit
Now that we've seen some of the models and features aimed at tracking and recording cycling data, let's break down one of the most useful features: GPS Integration.

What are some of the features available with Fitbit's GPS?
Track/Record:
Route
Distance Traveled
Pace
Elevation Climbed
Visual data for a traveled route (accessible via mobile or desktop app)
There are two primary ways in which your Fitbit product can integrate with GPS:
Connected GPS
Some Fitbit models rely on your cellphone or smart device to access GPS features like map routes, distance tracking, and more.
Connected GPS uses your phone's GPS sensors
Built-in GPS
There are several Fitbit models that have built-in GPS for independent operation.
Built-in GPS does not require a phone for functionality
Fitbit Models With Built-in GPS:
Whether the Fitbit's GPS is connected to your phone or built-in, it's definitely a tool that, as a cyclist, you will want to use for tracking their progress.
I already use my smartphone to track health data, would I still benefit from a Fitbit?
If you're someone who diligently tracks your exercising through your smartphone, then you're in luck! The beauty of these Fitbit products is that they're meant to enhance your existing experience, rather than replace it.

Additionally, Fitbit's automation removes the need for the manual recording of your exercise data. Most devices not only wirelessly sync information, but many can track data in real-time as well.
Smartwatches are designed with technology and communication in mind with the added benefit of fitness tracking. Fitbits are designed with fitness tracking in mind first, then adding the features of a smartwatch 2nd.
If you're more fitness-focused, then it would seem that a Fitbit is the way to go. If you're just dabbling in cycling, then your smartwatch may do just fine.
How Does Fitbit Track Your Cycling?
Fitbit provides an array of trackable data with both their mobile app and desktop dashboard (downloadable via the Windows Microsoft Store). Much of this data can be applied directly to your cycling routine.
Distance Tracking
Most Fitbit products can track your route in real-time, allowing the users to get accurate data on their distance traveled.
Calorie Counting
Fitbit uses your activity data and Basal Metabolic Rate (BMR) in conjunction to estimate your calories burned during a session.
Heart Rate Monitoring
The ability to measure the intensity of your workouts and routines by monitoring your heart rate is crucial to many cyclists. Many models include not only 24/7 heart monitoring, but resting heart rate monitoring as well, allowing for a more diverse pool of trackable data.
GPS
The GPS function allows cyclists to track and record their routes. You can visually examine the route from the mobile/desktop app as well. The GPS feature can also produce elevation data, enabling dynamic routing for your workout.
Duration
The trackable duration of a session helps keep consistency and accountability. Cyclists can also use this feature to track personal bests for races, or simply create a new, healthy routine.
Fitbit For The Casual Cyclist
Let's face it, not all of us are sponsored cyclists competing for a place in the Tour de France. With all the trackable cycling data Fitbit is able to include in their products, you may be wondering:

What if I'm a casual cyclist? Would I still benefit from the other features Fitbit offers?

Given the ability to customize your own personal routines with a wide range of tracking features, pro and amateur cyclists alike could benefit from these products.
The beauty of Fitbit's exercise trackers is that they're just that: technology capable of tracking a large array of customizable workout routines. Many models are capable of automatically tracking a variety of exercise routines, making them approachable in a variety of settings.

Most of the wearable technology from Fitbit is also able to track additional information like Sleep/REM Cycles, Dietary Information, Weight Loss/Gain, Heart Rate, and more.

Your Fitbit will serve many uses other than just tracking your biking data if you so choose.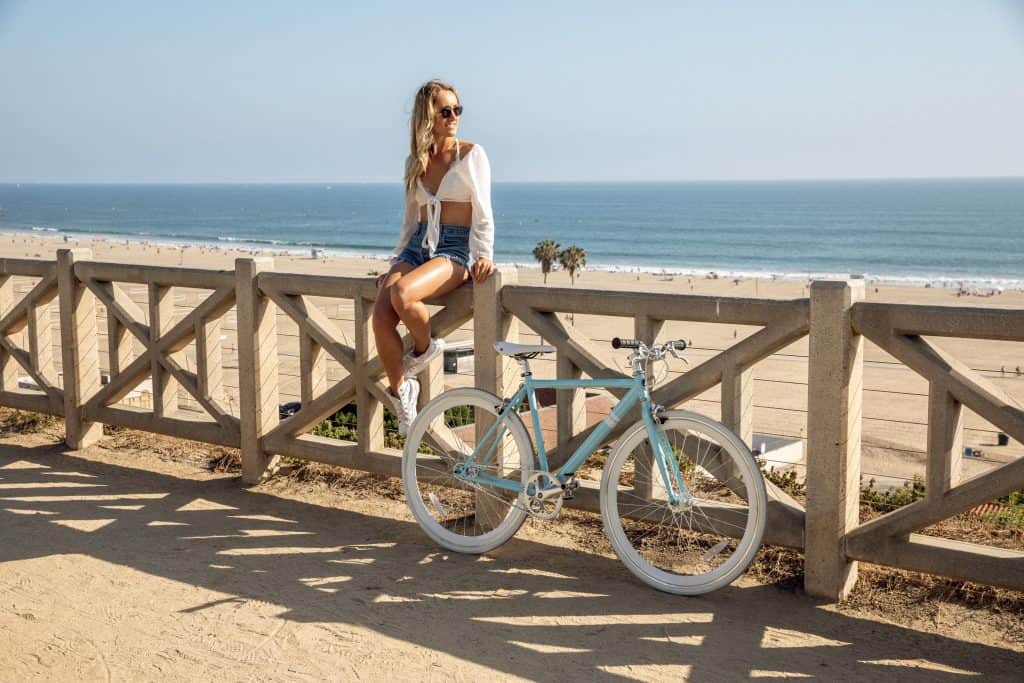 Conclusion
Fitbit offers an impressive amount of products meant to help you on your journey to a healthier lifestyle. Many of us choose cycling not only as a primary form of transportation but as a major contributor to our exercise routines as well.

The range of data that I was able to track for cycling made it so I never felt I was getting less than a runner, or settling for a simple "activity tracker." Whether you're new to the sport or have been cycling for years, Fitbit can address many of your needs.

Fitbit has found a way to successfully combine detailed tracking, with the freedom and accessibility of riding a bike.
If you enjoyed this article, you may also enjoy our article on using your Fitbit to lose weight. You can view that by clicking here.