How to Connect Blink to Alexa | Everything You Need To Know
Smarter Home Guide is supported by its audience. When you purchase through links on our site, we may earn an affiliate commission. Learn more here.
If you're using Alexa as your smart home assistant, Blink security Cameras are an excellent safeguard to add to any smart home. And, with Amazon now owning Blink, they integrate seamlessly into the Alexa ecosystem.
In this article, we're going to explain how to connect Blink to Alexa and help you navigate any additional features Echo has to offer with your Blink Cams and Video Doorbells.
Can Blink Security Cameras Work with Alexa?
Using your Echo device, Alexa will allow you to access a number of features from your Blink Cameras. These features include live view, doorbell notifications, motion alerts, Alexa routines and the ability to Arm/Disarm your Cameras. Two-way audio is available with Alexa, but only with the Blink Video Doorbell.
Amazon's Echo Show, Fire TV and Fire tablets will all allow you to view Blink camera footage. Echo smart speakers are limited in functionality due to their lack of a display screen.
How To Connect Blink To Alexa – Step-by-Step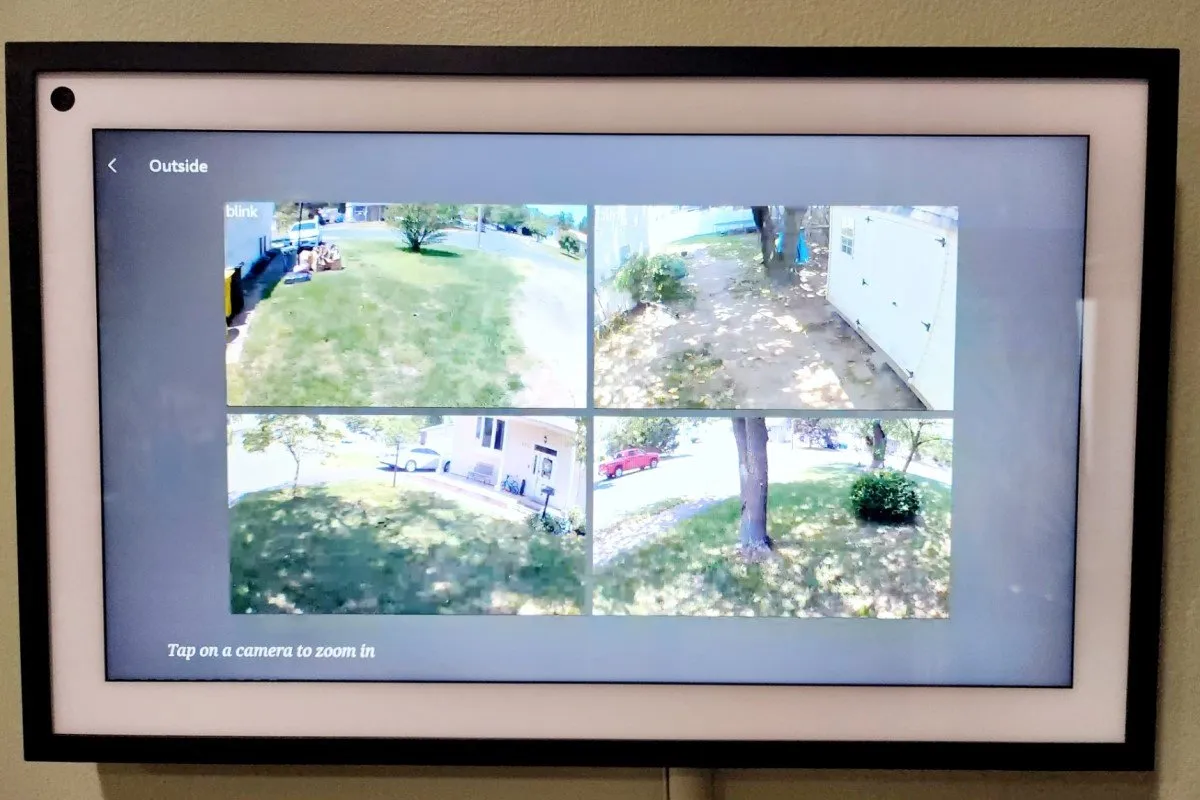 These steps will work to connect any Blink Cameras or Doorbells to Alexa. Before connecting your Blink account, you should already have installed the Blink smart home app, and have gone through the Blink Setup process.
Be sure that you're up to date with the latest versions of both the Alexa and Blink apps. You'll also want to disable Amazon Kids* from any device you plan to use with your Blink cameras. I would suggest naming your cameras in the Blink app so that you can recognize and reference them within the Alexa app. This will also help you with your Alexa commands after connecting Blink to Alexa.
Time to connect: 5 minutes
Open your Blink App.

Start by using your mobile device to open your Blink App.

Open the Settings menu.

Select the Gear Icon ⚙️ in the bottom right-hand corner of your screen to access Settings.

Select Account and Privacy.

In your settings screen, choose Accounts and Privacy.

Select Link to Alexa.

Scroll down the Accounts and Privacy menu and select Link to Alexa.

Choose Open Alexa App.

The Blink app will now prompt you to confirm you'd like to begin the process to link Blink with Alexa. After this step, you will technically be leaving the Blink app for the remainder of your set-up. Select Open Alexa App.

Enable the Blink SmartHome Skill

The Blink SmartHome skill is what allows Blink to communicate with your Alexa account. Select Enable To Use to allow the Blink Smarthome skill to connect Blink to Alexa.

Enter your Blink Login Credentials

Enter the Email Address and Password you used to set up your Blink Account. Select Continue.

Enter SMS Verification Code

You will now receive a verification code at the mobile number associated with your Blink account. Enter that number and select Verify (If you don't receive your verification number, try selecting Resend Code).

Select Close

You should then come to a screen saying "Your account has been successfully linked". Select Close. After closing, Alexa should already begin to discover devices.

Select Next

You will then come to this screen, which verifies that Alexa has found and connected to your new Blink device(s). Select Next to continue.

Select Your Camera

Alexa will now prompt you to set up your Blink Camera(s). Select your camera and press Set Up Device. If you have multiple cameras in your Blink account, you'll need to choose one at a time.

Assign your camera to a Group.

Alexa will prompt you to choose a Group to add your camera to. Generally, you want your groups to represent areas or rooms. For instance, you may want to assign all your outdoor cameras to a Group titled "Outside".

Once you've chosen a Group, press Add To Group. You can also skip this step if you'd like to assign groups later.

Press Continue

Alexa will confirm that your camera has now been added to its assigned Group. Press Continue.

Repeat steps 11-13 for any additional cameras.

Select Done

After assigning each of your cameras to Groups, you will come to a confirmation screen saying "All your devices are set up". Press done to finish. Your Blink cameras are now connected to Alexa.
After connecting, Alexa will ask you to create a PIN. Many people choose to skip this step. If you choose to do so, your only limitation will be that you won't be able to arm or disarm Blink your system through Alexa. You will still have the ability to view your cameras with your Echo Show devices.
*You can find instructions on disabling Amazon Kids here.
How To Use Blink and Alexa
Ok, now that you've learned how to connect Blink to Alexa, let's talk about how to use your Blink devices with your Echo device. The following sections represent the most common tasks you'll encounter when using Alexa to control and view your Blink cams.
Keep in mind that, when you set up your camera(s), you should have named them in the Blink app. Also, if you added them to an Alexa group, you may reference all cameras in that group instead of the individual camera name.
How To View Blink Camera On Echo Show
To view your Blink Camera's live feed, just say "Alexa, show me [insert camera or group name]".
For instance, if I have 3 Blink cameras in my yard and I named them "Front Yard", "Back Yard" and "Driveway", I can say "Alexa, show me the Driveway". If I assigned all those cameras to a Group in Alexa called "Outside", I can say "Alexa, show me outside" and I can view all 3 cameras at the same time.
Alexa Motion Announcements
To turn on motion announcements, open your Alexa app and go to Devices > Cameras > (Choose your blink cam) > ⚙️ > Toggle on Motion Announcements.
For Alexa Motion Announcements to work, your Blink System must be Armed and the motion alert function must be toggled on.
Arming your System With Alexa
Arm your Blink system by saying: "Alexa, Arm [System Name]"
*You can only arm Blink with Alexa if you've created a voice PIN code.
Disarming Your System With Alexa
Disarm your system by saying: "Alexa, disarm [System Name]"
*You can only disarm Blink with Alexa if you've created a voice PIN code.
Blink Sync Module 1 vs 2 – What's the difference?
Auto View Blink Camera on Echo Show (Motion Detection)
In order to automatically view your Blink Camera on your Echo show when motion is detected, you'll have to create an Alexa routine. It's important to note that this isn't necessarily a native function for Blink, but rather a work-around.
In your Alexa app, you need to create two routines. One to activate Blink live view during a motion event and one to stop live view after X amount of minutes with no motion activity. For more on creating Alexa routines, check out Amazon's help section here.
Editor's Note: If you have multiple cameras and you want to create an automatic live view for all of them, you may experience issues. Generally speaking, only the first Blink camera to receive the motion event will stream.
Alexa Blink Camera Commands [Table]
There are many Alexa Commands for your Blink Cams, and many would be beyond the scope of this article, so we're going to list the most important commands here. This list will be all most users will need, however.
In these examples, we're going to be assuming we've named our Blink System "Home Cameras", and our Video Doorbell "Front Door" in the Blink app. We're also going to group all outdoor cameras in Alexa under "Outside".
Blink Action
Alexa Command
Arm Blink
"Alexa, arm Home cameras."
(Alexa will ask for your voice code)
Disarm Blink
"Alexa, disarm Home cameras."
(Alexa will ask for your voice code.)
Live View
"Alexa, show me the front door."
Close Live View
"Alexa, go to Home screen."
Show All Cameras
"Alexa, show my cameras."
Show cameras in a specific group:
"Alexa, show me outside"
Editor's Note:
Multiple camera views work for Echo Show 8, 10 and 15. If you have more than four cameras, Alexa will display the four most active ones.
FAQs
Why Does My Blink Camera Say Live View Not Supported?
Blink camera live views are not supported in the Alexa Mobile App. If you experience this problem with an Echo Show device, check that both your Blink and Alexa apps are updated. Lastly, try disabling and re-enabling the Blink skill in your Alexa app.
Why won't my Blink camera connect to my mobile device?
There are several issues that could cause your Blink camera feed not to display on your phone. Make sure to check your phone's Internet connection, the Internet and WiFi connection at your home and the battery in your Blink Cam. Next, check that your Blink app is updated. Lastly, you can try power cycling your home's wireless router.
Who can see my Blink camera?
Only people using a device with your login credentials can view your Blink cameras. While hacking is always possible, even under the most secure circumstances, Blink uses multiple layers of encryption to keep your video feed and cloud storage safe.
What Is the Blink 4-Digit PIN?
When enabling the Blink Skill in your Alexa app, you will be prompted to create a 4-digit PIN used for arming and disarming your cameras through Alexa. If you need to manually set a PIN, you can do so through your Alexa app in Settings ⚙️ > Device Settings > [Select your Blink system] > Change Voice Code.
Does Echo Show 5 Work with Blink Cameras?
The Echo Show 5 does work with Blink cameras. Blink works with all Echo Show devices for use with Alexa.
Can Echo Show Automatically Show Blink Cameras?
Your Echo Show can automatically display your Blink Camera or Doorbell by using an Alexa routine triggered by either a motion event or when someone presses the doorbell.
Helpful Links
Conclusion
Following the steps in this article will allow you to quickly add and connect your Blink Cameras to Alexa. Not only will you find them to be a cool smart home accessory, but they are certain to provide you with peace of mind for years to come.
Blink cameras can be the perfect addition to any home security system when paired with Alexa and your Echo Show devices. You can use Alexa to view live camera footage on any Echo display, Fire TV or Fire Tablet.
Adding cameras is a cakewalk, and they have a lot to choose from. With indoor cameras, outdoor cameras, video doorbells and spotlight cams, you could easily have every inch of your property covered.
…well maybe keep them out of the bedroom at least!