Smarter Home Guide is supported by its audience. When you purchase through links on our site, we may earn an affiliate commission. Learn more here.
The Echo Show is an excellent smart display and smart home companion. Not only is it a great tool though, but it's also a small entertainment powerhouse. Yeah, that's right – you can even watch TV on Amazon's Echo Show.
Alexa has come a long way from her original conception, as has her hardware sibling – the Amazon Echo. Topping the list, with the most impressive of models, stands the Echo Show line. This is where Amazon combined its groundbreaking smart speaker with an LCD touchscreen, multiplying the possibilities by infinity.
In this article, we'll be taking a look at Alexa's compatible streaming services. So, if you're looking to binge your favorite TV shows, watch a movie, or even stream Live TV on your Echo Show, this article should cover all your bases.
(You can view more info on Amazon's Echo Show and Prices here…)
Can Alexa Play TV Shows?
Yes, with the Echo Show, Alexa can play videos, movies and TV shows using many of the same streaming services you might use on your smart TV.
You can view the available streaming services by manually swiping left and then selecting Video. You can also simply say "Alexa, open Video Home".
With the Video Home Screen open, you can manually review and select your preferred service. Some services may need to be enabled if it's your first time using the skill with your Echo Show, but it takes less than a minute to complete.
Editor's Note: Enabling a Skill with Alexa is much the same as downloading an app on your smartphone. For more on Alexa Skills and what they do, check out this article also…
The current streaming apps natively available as Alexa Skills on the Echo Show include:
Amazon Prime Video
Netflix
Hulu
Tubi
Food Network Kitchen
Red Bull TV
[amalinkspro type="image-link" asin="B07VHZ41L8″ new-window="true" apilink="https://www.amazon.com/dp/B07VHZ41L8?tag=smarterhome-amalinks-20&linkCode=osi&th=1&psc=1″ img-size="500,500″ addtocart="false" nofollow="true" alt="Echo Show 10 (3rd Gen) | HD smart display with motion and Alexa | Charcoal" alignment="aligncenter"]https://m.media-amazon.com/images/I/51Ag3TdZp3L._SL500_.jpg[/amalinkspro]
To use one of these streaming services, you will need to be signed in to your account. If you don't have an account, you'll have to create one. But once you're signed in to your preferred streaming service(s), jumping back into your favorite TV show binge is as simple as saying…
If a TV show is available on more than one of your streaming services, Alexa will ask you which service you want to use.
Don't see the streaming option you're looking for? That's Ok. Keep reading for some more out-of-the-box options…
Also, check this article out on using your TV as a computer display…
Can You Watch Live TV on Amazon Echo Show?
You can watch live TV on Amazon's Echo Show using certain streaming services. The most popular option would be using a Hulu + Live TV subscription.
If a particular streaming service you're subscribed to isn't available on the Echo Show, there is a workaround. You can access other streaming services by using the Amazon Silk web browser provided with the Echo Show.
Just head over to your preferred streaming service's web page and sign in. Opening the browser is as simple as saying:
There will always be 3rd party developers creating useful skills for things like this though. The Stream Player skill is a third-party service with many live TV options. Here are the live TV options available through Stream Player on your Echo Show:
| | | |
| --- | --- | --- |
| 10 NBC,82 | Hawaii News Now,141 | TBD,19 |
| 3Sat,44 | I24 News,200 | TWiT – This Week in Tech,95 |
| 9 News,140 | Israel C20,201 | Tyler Texas News,59 |
| ABC 10 San Diego,181 | Israel13,153 | Voice of America,75 |
| ABC 13 Toledo,183 | IsraelMusic,154 | WAND,183 |
| ABC 15 Arizona,179 | JBS,202 | WAPA TV,111 |
| ABC 6 Providence,101 | Jewelry TV,53 | Wave 3 NBC,57 |
| ABC News,1 | Juce TV,49 | WBAL,185 |
| ABC10 Action News,88 | Kake 10 News,69 | WBIR Knoxville,115 |
| ABC13 KTRK,131 | KAN Israel,78 | WBNG,186 |
| ABC6 Philadelphia,93 | KARE 11,134 | WBNS,175 |
| ABC7 Chicago,144 | KATU,119 | WCCO,173 |
| ABC7 KPLC,58 | KATV,161 | WCNC Breaking,90 |
| ABC7 L.A. Eye Witness News,98 | KBZK,147 | WCNC,89 |
| ABC7 L.A.,99 | KCBD Lubbock,60 | WCVB 5 Boston,77 |
| ABC7 New York,178 | KCTV5,193 | WCYB,191 |
| Adult Swim,30 | KFOR,164 | WDAF,85 |
| Al Jazeera Arabic,40 | KFSN,198 | WDBJ7,109 |
| AMG TV,20 | KGUN9,149 | WDHD 7 Boston,76 |
| ARD,41 | KHOU 11,133 | WDJT,120 |
| AZ Family,50 | King5 Seattle,114 | WDR,42 |
| BBC Arabia,33 | KITV,205 | WDRB,168 |
| BizTV,21 | KMBC,87 | WDSU,206 |
| Bloomberg Europe,100 | KMIV,117 | Weather Nation,22 |
| Bloomberg TV+,209 | Knesset Channel,155 | WeatTV,128 |
| Bloomberg,3 | KNPX,162 | WESG,136 |
| BuzzrTV,8 | KOCO,166 | WFAA,194 |
| California Music Channel,27 | KOIN,152 | WFMY,188 |
| Canal Andalucia, Spanish,67 | KOLD,150 | WFMZ 69 News,26 |
| Canal Extremadura, Spanish,66 | Komo 4 News,71 | WFSB ABC 3,138 |
| CBS New York,91 | KPRC2 Houston,130 | WFTV,135 |
| CBS News Boston,182 | Kron 4 San Francisco,62 | WGCL,197 |
| CBS News Cleveland,54 | KSDK,118 | WGHP,163 |
| CBS News,2 | KSHB,86 | WGN9 TV,9 |
| CBS Sports,11 | KSL5,146 | WGRZ,214 |
| CBSN L.A.,102 | KSTU,170 | WILX,158 |
| CGTN,25 | KTLA,126 | WITI,159 |
| Classic Arts,97 | KVUE,196 | WJRT ABC 12,137 |
| Colorados Own News,64 | KWCH,70 | WKBW,174 |
| Comet TV,6 | KWTV,165 | WKOW,203 |
| Country Network,31 | KXAS,148 | WKYC,216 |
| Dabl,24 | KY 3,74 | WLKY,169 |
| Detroit 4,157 | Law & Crime 1,80 | WNBC,207 |
| Deutsche Welle – DW,96 | Law & Crime 2,81 | WNEP,143 |
| DW Arabia,47 | London Live,28 | WNWO,210 |
| DW Spanish,46 | NASA Media TV,14 | WOWT,184 |
| Earth Cam TV,34 | NASA TV,7 | WPBF,124 |
| ET – Entertainment Tonight,10 | NBC 5 Chicago,172 | WPLG 10,177 |
| Euronews,12* | NBC News Now,4 | WPTV,123 |
| Evine,32 | NBC5 Chicago,145 | WRAL,192 |
| FOX 10 Alabama,127 | NCIS Springfield,180 | WRTV,160 |
| Fox 11 L. A.,105 | News 5 Cleveland,215 | WSiN,110 |
| Fox 2 Detroit,72 | News on 6 ,212 | WSLS10,106 |
| Fox 2 St. Louis,73 | NewsMax,18 | WSTM,167 |
| FOX 26 Houston,132 | NewsNet,23 | WSVN7,107 |
| FOX 28 Columbus,176 | NHK World Japan,35 | WTAE,129 |
| Fox 4 Dallas,79 | ONE,45 | WTHR,122 |
| Fox 40 Binghamton,187 | PBS Kids,5 | WTMJ4,195 |
| Fox 40 KTXL,63 | PIX 11,94 | WTOL,211 |
| Fox 43 Pennsylvania,56 | Q13 FOX KCOQ,113 | WTVC ,204 |
| Fox 5 KSWB,61 | QVC 2,51 | WTVD,125 |
| Fox 8 Cleveland,55 | QVC,15 | WTVF Nashville,116 |
| Fox 9 KMSP,68 | Rai News 24 ,199 | WTVY,83 |
| Fox Baltimore,142 | Red Bull TV,16 | WUTV,213 |
| Fox News,48 | RetroTV,13 | WVIT,156 |
| Fox4 Kansas City,84 | Rooster TV,104 | WVLT,112 |
| Fox5 Atlanta,108 | RTE News,17 | WVTM,151 |
| Fox5 New York,92 | Russia Today UK,29 | WWLTV,208 |
| France 24 French,43 | Russia Today,103 | WXIA TV,139 |
| France Info TV,65 | Sky News,36* | WXII 12,190 |
| France24,37 | Slam Music,38 | WYFF,171 |
| Gem Shopping Network GSM,52 | TA3,121 | xite Music,39 |
Echo Show and YouTube
YouTube isn't just for watching how-to videos. You can also, of course, watch TV shows and full-length movies. But is there a YouTube skill for the Echo Show?
While there technically isn't an Alexa skill for YouTube, there is still seamless integration which eliminates the need for the skill altogether.
Google pulled YouTube from the Alexa platform back in 2017, but using YouTube in Amazon's Silk browser works beautifully. Just say:
Alexa will then open the browser and take you directly to the YouTube homepage. You can then navigate through the Youtube homepage to see trending videos or you can use the search bar to look for anything YouTube has to offer.
Can You Watch YouTube Live TV Channels With Echo Show?
Our experience with this hasn't been good. As easy as it is to watch regular YouTube videos, including live streams, we haven't had much luck getting YouTube TV channels to load. I would imagine that this changes in the near future though.
Again, as mentioned above, you can still watch regular videos on YouTube and even livestreams. To live search livestreams, try tapping on the "Explore" (located at the bottom center), and then selecting the "Live" tile (top center of the screen – green icon).
It's recommended that you sign in to your YouTube account or create one so that you can more easily locate your favorite channels.
[amalinkspro_table id="4419″ aff-id="undefined" new-window="on" nofollow="on" addtocart="off" /]
Hulu + Live TV – Echo Show
Hulu is available on all Echo Show devices except for the Echo Show 5. By default, it should be preinstalled with Hulu which is available on your Video Home Screen. Or you can just ask Alexa to open Hulu.
As with any streaming service, you'll need to sign into your account the first time you open the skill. Once activated, you can access and watch any program that's included in your Hulu subscription. This includes Live TV.
If you're having trouble accessing Hulu on your Echo Show, try going to the device settings and checking for available software updates.
Prime Video on Echo Show
Since the Echo Show and Prime Video are both Amazon products, you can be sure your Show will come with Prime Video ready to go. This is true for all models including the Echo Show 5.
While setting up your Echo device, you will have already had to log in to your Amazon account. That being said, there shouldn't be any action needed to start watching Prime immediately. Although, you of course need to be subscribed to Prime first.
If the device is signed into a household member's account who doesn't have a Prime membership, you have two options. One is to have the non-Prime account added to the Prime account holder's "Household" in the Amazon settings. The other option would be to have the Prime account holder log in the the Echo device as a second user.
Using Sling on Echo Show
As of the publishing of this article, Sling TV is not available on the Echo Show, but The Verge has confirmed with Amazon that this service is coming to all existing Echo Show devices soon. Although there isn't a slated date for release, hopefully, this feature comes sooner than later.
Sling would be a great addition for another Live TV option on Echo Show.
Conclusion
In short, there are several options for watching TV with your Echo Show. While you can't connect a cable box to your Echo, you can certainly utilize multiple streaming services. These services include Prime Video, Hulu, Netflix, and more.
Hopefully, you can see the value in using this device beyond just a fancy alarm clock or a karaoke machine. From demonstrating recipes in the kitchen to displaying security footage or even making video calls, there's no shortlist to what the Echo Show is capable of.
Or, you can finish the last 5 minutes of that episode you were watching as you start dinner. How you use the Echo Show is up to you, but you should at least be aware of the multiple entertainment selections in its arsenal.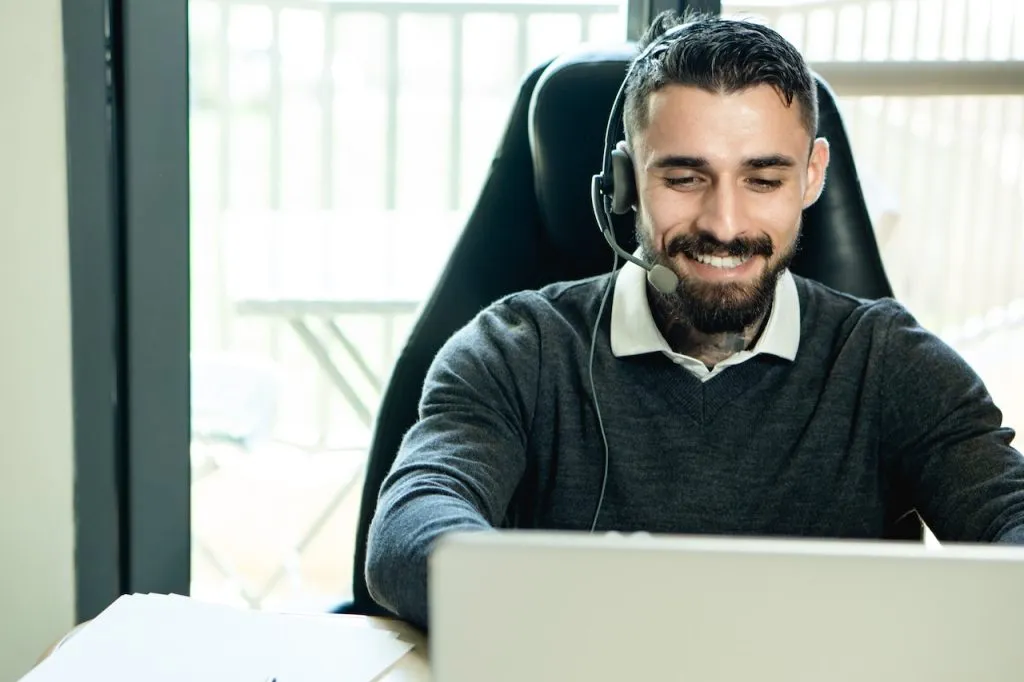 Still Have Questions?
Try our smart home support services!