How To Use A Computer Monitor As A TV Screen
Smarter Home Guide is supported by its audience. When you purchase through links on our site, we may earn an affiliate commission. Learn more here.
Using a computer monitor as a TV screen can save a few bucks and save on space as well. We are getting so used to multipurpose devices in our lives. Technology is starting to merge in a beautiful way.
When I was a kid (in the '90s), I used to daydream about everything being connected. Electrical devices, that is. I could never understand why my TV couldn't be hooked up to the internet. I also didn't understand why we couldn't watch cable on our computer. To me, a color screen should be a color screen. Well, fortunately, that has pretty much been the case for some time now (details about this could be argued a little).
Whether you're trying to repurpose an existing monitor that isn't in use, or purchasing a new monitor for dual purposes, this article will cover the ins and outs. In this helpful guide, you'll find everything you need to know about how to use a computer monitor as a TV screen.
(Here is a list of Amazon's best budget TV's as well…)
What's The Difference Between A Computer Monitor And A Television?
TV's and Computer Monitors have a lot in common. After all, both devices give you HD displays for various activities. Their functionality, size, and even prices can overlap. While the differences between TV's and Computer Monitors are narrowing, generally there are some distinctions. Here is where you might find they differ:
(Also, check out this article on using a TV screen as a computer monitor…)
| | |
| --- | --- |
| Television | Computer Monitor |
| Available in mostly larger sizes | Usually available in smaller sizes |
| Typically offers a standard 16:9 aspect ratio | Can have a wider or narrower aspect ratio |
| Usually comes with a high-resolution screen | Can display high-resolution images |
| Supports a wide variety of ports, including USB, VGA, and HDMI | Supports most ports similar to a television screen except a coaxial cable connection |
| Will switch between several inputs | Can support multiple accessories and display modes, but not necessarily several inputs |
| All TVs have built-in speakers | Not all computer monitors come with built-in audio jacks or speakers |
As you can see, both types of displays are comparable but have key differences. An additional aspect you might want to consider is pricing. You get what you pay for with both types of displays. The cheapest TVs can cost less than $100, but they can go as high as $50,000, depending on all the features, resolution, ports, screen type, inputs, and much more. With computer monitors, you can get something for as low as $80 or spend as much as $5,000.
The fanciest computer monitors are not as expensive as the latest TVs. The main reason is that the newest TVs are using display technology that has not yet been adapted for use with computer monitors yet. TVs and computer monitors can both support up to 8K resolutions now.
You're going to be looking for resolution, screen size and input ports most likely for this task.
Did you know you can watch TV with your Echo Show?
Can You Turn A Computer Monitor Into A TV?
Yes, as long as your monitor has certain modern capabilities, it can be used as a television screen pretty effortlessly. For many models though, it is not as easy as just plugging the cable box into a computer monitor. There are some details to consider first. Depending on the monitor and your media source, you may need to make some adjustments to your entertainment setup:
Does the computer monitor have an HDMI input? This is currently the primary means of connection for Home Audio/Video.

In case you already have a monitor, and it has a VGA connector or a DisplayPort connection, you can always convert it to HDMI using an adapter.

Does your computer monitor come with built-in audio? If you want to use your computer monitor as a TV screen, you need to be able to hear it.
Lastly, you need to consider the screen resolution of the monitor. Not all computer monitors come with the highest resolution. If you are looking for something you can watch TV on, you should ideally get a computer monitor that can support a minimum of 720p.
(For a great monitor with built-in speakers and HDMI inputs, check out this monitor from LG…)
How To Convert A Computer Monitor Into A TV Screen
In an ideal world, converting your computer monitor into a TV screen can be relatively simple. You would have an HDMI port on the computer monitor that lets you connect it to most modern devices. However, there are some older monitors that will not have an HDMI input. VGA inputs used to be a standard before HDMI came along.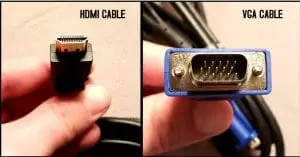 If you have a computer monitor without an HDMI port, you can use an HDMI to VGA converter like the one below by Jide Tech (found here on Amazon). All you need to do is plug the HDMI output from your streaming device, DVD player, or cable box into this adapter and plug your computer monitor onto the adapter's VGA connection.
Note: Your media source must have an HDMI output. Otherwise, you cannot use this device to convert the signals for your computer monitor's VGA input. This adapter can help you get both the display signal and the audio.
This adapter will also help you with sound. There is an audio output also, which will allow you to strip the audio signal from the HDMI connection. You can plug a soundbar straight into this device.
Even if your monitor has built-in audio, you're not likely to be pleased with its sound quality. I would recommend using an additional device to get better sound from your newly converted computer monitor.
You do not necessarily need to spend a lot of money for an expensive surround sound system. A small soundbar like the Bowfell from Majority (found here on Amazon) will make a huge difference. It can allow you to enjoy a better quality sound that you probably won't get from your computer monitor.
Using A TV Tuner With Your Monitor
In order to hook a cable or antenna signal to your monitor, you'll need some sort of TV tuner. A TV tuner will decode the signal coming in and transform that into a picture.
Televisions built after 2006 are required to include a built-in TV tuner* that converts the cable or antenna signal into video and audio. This allows you to directly connect an antenna or cable line to your TV without using an external TV tuner**.
Computer monitors do not come with integrated tuners. Next, we'll explore how to use a monitor as a TV with a Set Top Box or Tuner.
First, I'd like to offer an alternative. This is my personal solution, and I find it a lot easier. I use an Amazon Fire Stick with my monitor and I can watch anything I want without any cables or TV Tuners. The Fire Stick is my 21st century Set Top Box if you will. All you need to use this is to connect it to your monitor's HDMI port.
It seems like most households include at least one Fire Stick these days. They can support several subscriptions like Netflix, Hulu, Amazon Prime, and even Sling. You can get a subscription to any one of these services for FAR LESS than paying for cable.
I believe the basic Netflix plan is still at $8.99 per month. Hulu and Sling can give you all the channels and live television that cable can provide, but cheaper. (You can check out Amazon's current Fire Stick price here.)
*Some TV manufacturers have gotten around this by marketing certain models as "Displays" instead of "Televisions".
**You will receive limited channels without a cable box and you'll be lacking your cable provider's smart features, menus, on-demand and/or DVR.
For a more technical understanding on TV tuners, check out this link.
Hooking A Cable Box To Your Monitor
Using a cable box with your computer monitor is a pretty straightforward process. If your monitor has decent built-in audio with an HDMI port, it's actually the exact same thing as using your television. Plug one end of the cable to the HDMI output of your cable box. Plug the second end of the cable to the HDMI input of your monitor.
In the event that your monitor has an HDMI input with no audio (or poor quality audio):
You're going to need an HDMI Audio Extractor (see link and diagram below). Your HDMI Cord will come out of your cable box and directly into the HDMI Extractor. From there a second HDMI cable will plug into your monitor for the video signal. An audio output cable will run from the audio extractor to your speaker.
Again, the HDMI to VGA converter will be required if your monitor only has a VGA input. This will be the last device in line before plugging into your monitor.
Connecting A TV Antenna To Your Computer Monitor
Let's suppose you do not have a cable box, you don't have wifi, and/or you don't want to create a smart tv setup. Using a PC monitor with an antenna and TV tuner is also completely doable. You just need the right tools and understand how to make it work.
The goal here is obviously to connect a TV antenna to your computer monitor. Your monitor, most likely, isn't going to have a built-in TV tuner. This means you'll not only need the TV antenna, but also OTA converter box. The Homeworx (found here on Amazon) digital converter box by Mediasonic combined with the GESOBYTE HD Digital TV Antenna (found here on Amazon) is an ideal setup for free TV Channels on your computer monitor.
Below, you will find a detailed diagram from Mediasonic on how to hook up your new antenna.
Connect the coaxial cable from your TV antenna into the RF Input on the tuner.
2. Connect the HDMI cable to your monitor as shown with the TV in the diagram.
It is rare, but some computer monitors can have an AV input as seen in the television set above. If your computer monitor has the AV connection, you can use the AV cables to connect the tuner to your PC monitor as well.

Just like in the other examples, if your computer monitor does not have an HDMI (or AV) Input, you will need to plug an HDMI to VGA Converter in between the converter box and the monitor.
Remember that the recommended HDMI Coverter will have an audio output as well for an external speaker or soundbar.

If your monitor does have an HDMI input without built-in audio, remember to grab the audio extractor found in the next section (or a similar model).
Our Recommended Audio Extractor
HDMI Audio Extractor (Found here on Amazon).
This device will allow you to plug an external speaker into your entertainment setup which doesn't otherwise have good speakers. In the example of most computer monitors, you may not otherwise have sound at all.
Weighing Your Options
As you can see, there are various ways to use your computer monitor as a TV Screen. Of course, you will likely need to buy some additional hardware. Some people might find buying too many devices too much of a hassle.
You might find it simpler or just as cost effective to invest in an affordable TV. There are really reasonable options on the market today, that would have been pretty expensive just a few years ago.
Here are a couple of suggestions as an alternative:
The Insignia Fire TV Edition
Insignia NS-32DF310NA19 32-inch Smart HD TV – Fire TV Edition
Affordable

720p picture quality with deep blacks and rich colors.

Compact - Dimensions (W x H x D): TV without stand: 28.9" x 17.3" x 3", TV with stand: 28.9" x 19" x 8.2".

Built-in Fire TV provides tens of thousands of channels, apps, and Alexa skills, including Disney+, Netflix, YouTube, Prime Video, Hulu, SHOWTIME, and STARZ.

Multiple device input/output options: 3 HDMI including 1 with ARC, USB, composite input, antenna/cable input, digital output (optical), audio output, Ethernet.

Easily control your TV with the included Voice Remote with Alexa—plus, launch apps, search for titles, play music, switch inputs, control smart home devices, and more, using just your voice.
Prices pulled from the Amazon Product Advertising API on:
Product prices and availability are accurate as of the date/time indicated and are subject to change. Any price and availability information displayed on [relevant Amazon Site(s), as applicable] at the time of purchase will apply to the purchase of this product.
The Insignia Fire TV Edition is a 24″ television set that can provide you with excellent value for money. Insignia might not be one of the most expensive TV brands, but it manufactures fantastic devices that come with a more affordable price tag.
The Insignia Fire TV Edition is a decent LED TV with HD capability. You might not get an 8K resolution, but it does support 720p resolution for a crisp and clear image. Besides its standard TV connectivity, it has Smart TV functionality. You can wirelessly connect it to your WiFi and even stream videos directly from your smartphone.
Fire TV's Alexa integration is built in to the remote itself. You can say "Alexa, find action films". If your home is properly set up with smart devices, you can say "Alexa, turn off the lights", to set mood for your Netflix and….relax date.
The Fire TV edition integrates all the normal TV input options, with the ability to use live TV and streaming channels over the internet. You get the best of both through the internet using the Fire TV Edition TCL Insignia.
Considering the price you may need to pay for hardware converting some monitor models to a television, this can make it an exceptional investment. The price tag is extremely reasonable. You can check out more details at the link above.
TCL Roku Smart LED TV
TCL 32S325 32 Inch 720p Roku Smart LED TV (2019)
Dimensions (W x H x D): TV without stand: 28.8 x 17.1 x 3.1 inches, TV with stand: 28.8 x 19 x 6.8 inches

Smart functionality delivers all your favorite content with over 500,000 movies and TV episodes, accessible through the simple and intuitive Roku TV

720p HD resolution for a crisp picture. Stand separation distance - 21.3 inch

Direct lit LED produces great picture quality. USB file format compatibility video, MKV (H.264), MP4, MOV (H.264), TS (H.264) Music AAC, MP3, WMA, WAV (PCM), AIFF, FLAC, AC3 Photo JPG, PNG, GIF

Inputs: 3 HDMI 2.0 with HDCP 2.2 (one with HDMI ARC), 1 USB (media player), RF, Composite, Headphone Jack, optical audio out

Compatible with Alexa and Google Assist
Prices pulled from the Amazon Product Advertising API on:
Product prices and availability are accurate as of the date/time indicated and are subject to change. Any price and availability information displayed on [relevant Amazon Site(s), as applicable] at the time of purchase will apply to the purchase of this product.
The TCL Roku Smart LED TV is another affordable but very capable TV to consider. This is a Roku based Smart LED TV that lets you connect it directly to the internet through a dual-band WiFi connection.
The 32-inch screen is noticeably larger than the Insignia. While the resolution isn't the best on the market it still allows you to enjoy a crisp 720p resolution display. A picture quality and screen size like this is going to be hard to beat for the price.
Noting that this model doesn't have Alex built into the remote, it is compatible with Alexa. Meaning, you can access its smart features using an Amazon Echo device.
The smart functionality of both of these TV's allows you to stream from various subscriptions like Netflix, HBO Go, Hulu, and Amazon Prime aside from any standard cable service you might have. It is difficult to beat the functionality for such an affordable price tag.
Check out our article on turning a small room into a home theater on a budget.
Conclusion
Using a PC monitor as a TV can be useful in some scenarios. It takes a little bit of work and buying a few extra accessories, but learning how to use a computer monitor as a TV screen is not too challenging.
I hope this guide will help you make the conversion in re-purposing (or multi-purposing) your monitor.
Happy watching!