Amazon Fire Stick – What Is It and How Does It Work?
Smarter Home Guide is supported by its audience. When you purchase through links on our site, we may earn an affiliate commission. Learn more here.
The number of people streaming movies and TV shows is quickly surpassing the number of cable and network television users – and for good reason. In large part due to devices like Amazon's Fire Stick being so affordable and versatile.
If you haven't made the leap to streaming, you might be asking yourself: "What exactly is a Fire Stick?" or "What does a Fire Stick even do?"
If that sounds like you, don't worry. You're not alone in having these questions! That's why, in this article, we're going to tell you everything you need to know about Amazon's Fire TV and the Fire TV Stick.
(If you're interested in checking out the best Fire Sticks, you can view them here…)
What Is A Fire Stick?
A Fire Stick (Or Fire TV Stick) is a streaming device manufactured by Amazon that plugs into your TV's HDMI port, effectively converting any modern television into a smart TV. Downloadable apps are available on Fire TV for all of the major streaming services and most of the smaller-known services.
These streaming apps include Netflix, Hulu, Prime Video, and Sling just to name a few. With live TV options available through some of these apps, many users are even able to completely replace their cable package with their Fire Stick.
Fire Stick devices connect to the internet via your Wi-Fi router, allowing them to access Amazon's app store and all the streaming services that come with it.
Editor's Note: Replacing cable or satellite television with streaming services is also known as "Cord Cutting". Cord-cutting has become a popular way to save money since streaming subscriptions are so affordable. I, personally, cut the cord some time ago and I've never looked back.
How Does A Fire Stick Work?
An Amazon Fire Stick works by allowing you to stream movies and TV shows over your home WiFi network. It simply plugs into any available HDMI input in the back of your television and is paired with a WiFi remote control.
Upon initially powering on, all Fire TV devices will walk you through a simple setup which will require you to select your WiFi network and enter a password. Many of the most popular streaming apps will come pre-installed, but you can quickly download those that aren't.
All apps are free to download, but Generally speaking, you'll need an account with each specific streaming provider to watch their content. If you are a Prime subscriber, you will already have Prime Video included in your account which has a ton of movies, documentaries, and TV shows.
Is My TV Compatible With Amazon Fire Stick?
If your TV has a functional HDMI port, then it will be compatible with Amazon's Fire TV Stick. HDMI ports come standard on just about any television produced over the last decade.
What Does A Firestick Do For A Smart TV?
If you already have a smart TV, then you may possibly still want to purchase a Fire Stick. The term "smart TV", is used very liberally and not all smart TVs are created equal. If you aren't happy with your television's current features and capabilities, then a Firestick would be beneficial.
If your television has an internet connection, a processor, and a selection of apps, then it's technically a smart tv. But, does it have voice assistant compatibility, a voice remote, and lightning-fast execution? Does it have all the apps your heart desires? Can you see if someone is at your front door via your Ring doorbell?
These are just a few reasons people have Fire Sticks plugged into their smart TVs. Now, if you're in the market for a new television, there are smart TVs with built-in Fire TV. In this case, there is no need for a Fire Stick, because the capabilities are pretty much the same.
Fire Stick Channels
You can access virtually any channel on your Fire TV Stick that you access on cable or satellite. And there are even channels that you won't necessarily find on your local provider.
Channels on your Fire TV are accessed through apps. Some channels have their own apps and some apps allow you to access content from multiple channels. You can often access live broadcasting for these channels, and nearly always stream their content on demand.
As an example, let's take HBO. HBO has its own app called HBO Max. You can watch HBO programming on demand with their app if you subscribe. You can either subscribe directly to the app through HBO, or if you have HBO through your cable provider, you will have access to the HBO Max app for free.
But, maybe you subscribe to Hulu? Hulu has an app available on your Firestick and you can stream lots of movies and TV shows on demand. You can also add live TV programming to your Hulu account, just like you would have with cable.
Also, just like with cable, you can add premium channels – like HBO. So, in this one app, you would have access to more content than you could ever hope to watch by itself. And, because you're an HBO subscriber (through Hulu), you also have access to everything on the HBO Max app.
There are literally thousands of apps available for your Fire Stick, so we're just going to cover some of the more relevant ones in this article. First, we're going to answer a couple of questions that I seem to get most frequently, just to get them out of the way.
Is Amazon Prime Free With Fire Stick?
A Fire Stick purchase does not currently include an Amazon Prime membership. A standard Amazon account is free, however, and that is all you need to operate your new Fire TV Stick.
A subscription to Amazon Prime would give you free access to Prime Video, which is a popular streaming app that many people use. A Prime membership also grants you a whole slew of other benefits through Amazon like music streaming, same-day shipping and Amazon Fresh grocery delivery.
This Amazon link will give you a free 30-day trial to Amazon Prime, so you can try it out first.
Do You Have To Pay For Netflix With Amazon Fire Stick?
There is a rumor that has led some people to believe that there is a free version of Netflix with the purchase of Amazon's Fire Stick. To be completely accurate, the Netflix app is technically free to download (just as any Fire TV app is), but you'll need a subscription to log in.
Netflix subscriptions are very affordable though. You can view their plans here.
Top Amazon Fire TV Apps and Channels
Again, you can really get any channel you want using your Firestick. You might want to decide which content is most important to you before deciding which apps to sign up for. Or, you can start with the free streaming services and then go from there.
My recommendation would be to start with our top 3. But, remember, you only need one to get going, and don't forget to check out our free list.
Our Top 3 Paid Fire Stick Channels (Apps):
Netflix (streaming only)
Amazon Prime (streaming only)
Hulu (streaming and live TV packages available)
Top 5 Fire Stick Apps For Live TV Channels
Hulu
Sling TV
YouTube TV
Fubo TV
Philo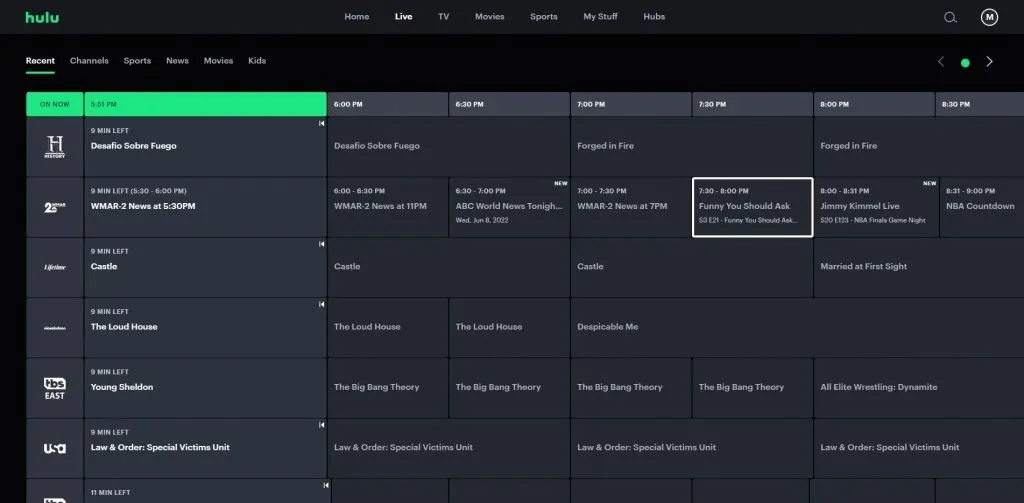 Fire Stick FAQs
Does Amazon's Fire Stick Need Internet?
Yes, the Amazon Fire TV Stick will certainly require a solid internet connection to function properly. You could, however, use a hotspot on your phone if your home network goes down.
Does A Fire Stick Need WiFi?
If you don't have WiFi goes, you can technically still access the internet by hardwiring an Ethernet cable. You'll just need an Ethernet adaptor for your Fire Stick.
Is There A Monthly Fee For Fire Stick?
There is no monthly fee associated with owning a Fire Stick. The only recurring costs associated with Fire TV devices would be your internet package and whether or not you decide to subscribe to paid streaming service.
What Channels Are Free With The Firestick?
Each of the following will provide many channels worth of free streaming on your Firestick:
Peacock
Pluto TV
Tubi
Roku Channel
Xumo
YouTube
Watching Apple TV + on Fire Stick is super easy too…
Learn how to use Fire Stick with your computer…
Amazon Fire Stick Comparison
Wondering which Fire Stick you should buy? Here are the 3 best options and the main differences between them:
Image
Title
Prime
4K
Dolby Vision
Wi-Fi 6
Memory
Price
Buy

Top

Top

Fire TV Stick 4K Max w/ Alexa Voice Remote

Prime

Eligible

✔
✔
✔
2 GB
View On Amazon

Top

Fire TV Stick 4K w/ Alexa Voice Remote

Prime

Eligible

✔
✔
❌
1.5 GB
View On Amazon

Top

Fire TV Stick w/ Alexa Voice Remote

Prime

Eligible

❌
❌
❌
1 GB
View On Amazon
Product prices and availability are accurate as of the date/time indicated and are subject to change. Any price and availability information displayed on [relevant Amazon Site(s), as applicable] at the time of purchase will apply to the purchase of this product.
Prices pulled from the Amazon Product Advertising API on:
Is A Firestick Worth It?
Amazon's Fire TV Stick has changed the world of streaming and given everyone the option to have a smart TV at an affordable price. The Fire TV technology is arguably better than other competing smart television technologies and comes in at a fraction of the price.
I'd say that, in nearly all cases, adding a Firestick to your arsenal is worth it. Fire TV will change the way you watch television moving forward. That being said, if you already have a great smart TV, then you probably will be perfectly fine with what you have.
Hopefully, this article has not only answered for you what a Fire Stick is, but also you now understand how it works.