Smarter Home Guide is supported by its audience. When you purchase through links on our site, we may earn an affiliate commission. Learn more here.
The home security market is filled with devices designed to give you peace of mind when you're away from home. Ring is a big name in the industry when we're talking about smart home monitoring. So, what is Ring Cam exactly?
Ring Cams are cost-effective, motion-activated security cameras designed for easy installation and maintenance. They work through your WiFi so that you can view them remotely from anywhere with your phone, tablet or computer.
Ring, a security and smart home company now owned by Amazon, created their devices with simple monitoring in mind.

These are the types of ring cameras currently available:

Ring Doorbell: a doorbell, intercom, and camera packed into a small rectangular device
Spotlight Cam: a camera with a built-in light that's motion-activated at night
Floodlight Cam: a camera with two powerful motion-activated floodlights
Stick Up Cam: a wire-free battery-powered camera that doesn't require screws
Indoor Cam: a camera that looks like the Stick Up Cam but must be plugged into an outlet
Every Ring device comes equipped with:
Live-view and 1080p HD video
Motion detection
Night vision
Two-way Talk
A siren alarm to scare off intruders
Ring also offers a variety of options for powering their security cameras. Ring security cams can be battery-powered, solar-powered, hard-wired, or plugged into an outlet. Power options vary based on the model.
(Also, for an affordable alternative, you should check out my Blink Outdoor Cameras review…)
Ring Cam Plans
Once you install your Ring device, you'll have the option of signing up for a protection plan. You can choose between plus and basic. Both plans offer what some users say is a critical feature: cloud storage. Videos recorded by your Ring Cam upload to the cloud, regardless of which Ring device you own or protection plan you opt into. The plans different features:

| | | |
| --- | --- | --- |
| Feature | Basic | Plus |
| Access recorded videos for up to 60 days on your account | X | X |
| Download and save recorded videos directly to your smart device | X | X |
| Snapshot Capture | X | X |
| 24/7 professional security monitoring through Ring Alarm | | X |
| Extended warranties on every Ring device listed at your address | | X |
| 10 percent discount on products through Ring.com | | X |
Is There A Monthly Fee For Ring Cam?
You can access your "Live View" on Ring at any time without paying a monthly fee. If you'd like cloud storage to access past events you will need an optional protection plan. Protection plans are subscription-based and require account-holders to pay a small monthly fee.
The Basic plan costs $3/month or $30/year for the annual option.
The Plus Plan costs $10/month or $100/year for a savings of $20 and adds 24/7 professional monitoring for your Ring Alarm and recording for multiple Ring devices.
Does Ring Work Without A Subscription?
You don't need to sign up for a plan to use your home security camera. Ring allows you to access a live video stream on your phone anywhere, anytime.
You'll still receive notifications on your phone when the motion sensors are triggered on your Ring device.
A major drawback to opting-out of a security plan through Ring is video playback. Without a subscription plan, you won't be able to access past videos recorded through your Ring device.
Ring Cam Motion Zones For Spotlight Cam, Floodlight Cam and Indoor Cam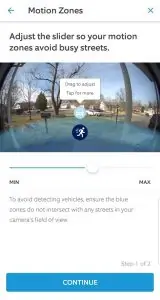 Ring Cam offers users the ability to alter how their camera catches motion.

During setup, you'll get a better understanding of something called "motion zones." A "motion zone" is a dedicated area that the Ring Cam will observe. If movement occurs beyond the motion zone, it won't trigger the device.
In order to make the most out of a motion-activated camera, you'll want to clearly define these zones. Defining your camera's field of view will reduce false alerts.

Motion zones work differently, depending on the device you select. The spotlight cam and the floodlight cam both have three customizable motion detection zones, while the indoor camera only has one.
When you open the Ring app, you'll be able to draw boxes within the field of view of the camera. Those boxes will define how the camera decides when it should notify you about movement.
How Far Away Does A Ring Cam Detect Motion?
In general, powered Ring devices can detect motion up to 30 feet away. Motion sensitivity doesn't decrease, even if the movement is at the maximum distance away from the camera.
Motion sensitivity is actually its own feature that can easily be adjusted on the Ring app. Users can opt to select "people only." This setting asks the Ring device to only be triggered by shapes that resemble a human body (think head and shoulders).
"All motion" is the most sensitive setting. The device will be triggered by any sort of motion including passing cars, moving tree limbs, and
Ring Cam Continuous Recording
Ring Cam is motion-activated, meaning it does not continuously record once set up. Ring cam does offer a "live view" feature on its app. When you turn on live view, the camera sends a real-time video to your phone in 1080p HD.
Anything recorded during a live viewing session is uploaded to your Ring account, just like motion-activated videos (if you have a protection plan). However, once you close the "live view" feature on the app, your camera will stop recording unless re-activated by motion.
Note: Live view does, however, drain the battery of your device, making it particularly inconvenient for battery-powered Ring devices.
Ring also recently introduced a "snapshot capture" feature. If you subscribe to one of Ring's protection plans, your device will capture random images throughout the day. The images are uploaded to your Ring account and time-stamped for ease of viewing.
Indoor Uses for Ring Cam
[amalinkspro type="image-link" asin="B07Q6ZZFLS" new-window="true" apilink="https://www.amazon.com/dp/B07Q6ZZFLS?tag=smarterhome-amalinks-20&linkCode=osi&th=1&psc=1″ addtocart="false" nofollow="true" alt="Ring Stick Up Cam Battery HD security camera with custom privacy controls, Simple setup, Works with Alexa – White" alignment="aligncenter"]https://m.media-amazon.com/images/I/41Cb1NVPZSL.jpg[/amalinkspro]
Here are some of the reasons people generally install Ring Cams inside their homes.
Using Ring Cam For Pet Sitting
One of the most common uses for an indoor security camera is keeping track of a pet. Users place indoor Ring cameras in their homes to keep an eye on puppies or kittens while they're at work. Two-way audio allows them to soothe an easily-excitable puppy.
Using Ring Cam As A Baby Monitor
Although not ideal, Ring Cam could be used as a baby monitor. The device has two-way talk and night vision — compelling reasons to set up a Ring camera near a crib. However, there are several drawbacks.
Ring Cams emit a blue LED light when recording which could disturb an infant.
They are also motion activated so they do not continuously record. Live view can drain the battery of some devices, limiting the amount of time you can use Ring Cam to check on the little one.
Here is an article on using your Ring Cam as a baby monitor and some other alternatives to Ring.
Ring Cam Login
You can log into your Ring account from a phone, tablet, or computer. This means that your Ring camera can be accessed anywhere, as long as you're connected to the internet.
Ring Cam Security
Security is a big concern for many users. Recent headlines about "hacked" home security systems have many people rethinking the tech altogether. It's important to remember that neither Ring's hardware or software were compromised in the alleged "hacks."
According to the company, the problem was more generic than that. Ring camera users chose the same username and password for their Ring accounts as other accounts — probably to make it easier to remember.
Unfortunately, this made it easier for people to gain access. Once a user's password was compromised through a data breach on another website, the "hacker" gained access to the Ring account as well.
Basically, it's very easy to avoid getting "hacked" when using Ring. First, choose a new, special password for your Ring device that you don't use on any other account.
Second, enable two-factor authentication as soon as you set up your account. Two-factor authentication is an extra security measure that will make it more difficult for someone who cracked you password to log in to your account.
Ring Cam Pros And Cons
Pros
Ring cameras blend into their surroundings. Without the bright blue LED light, it might be easy to forget you have one in your home.
Ring devices are customizable and easy to control through the Ring app.
Each device comes with a one-year warranty.
Every installation kit comes with a drill bit and screwdriver if they're required for setting up your device. Ring users also gain access to YouTube videos and pamphlets to help with independent installation.
Cons
Audio capability on Ring devices leaves something to be desired. Users have complained that volume on indoor and outdoor units varies.
It's difficult to troubleshoot a faulty device on your own. While Ring boasts easy setup, the least tech-savvy among us may struggle with a problematic device.
If your motion sensitivity is turned up, your Ring device may send movement notifications to your phone when the light changes. That means you may get a notification at sunrise and sunset as the camera's night vision clicks on and off.
Ring Cameras are only as good as the internet they're connected to. If you have slow internet speeds and shotty connections, you may way to consider upgrading your internet before purchasing a Ring product.
Conclusion
There are many options available for anyone looking to equip their homes with security cameras.
Ring Cam's features including two-way talk, 1080p HD video quality, motion activation, and night vision make it a particularly attractive design.
While there are some drawbacks, Ring is overall an easy and customizable option for someone looking to try out home security cameras.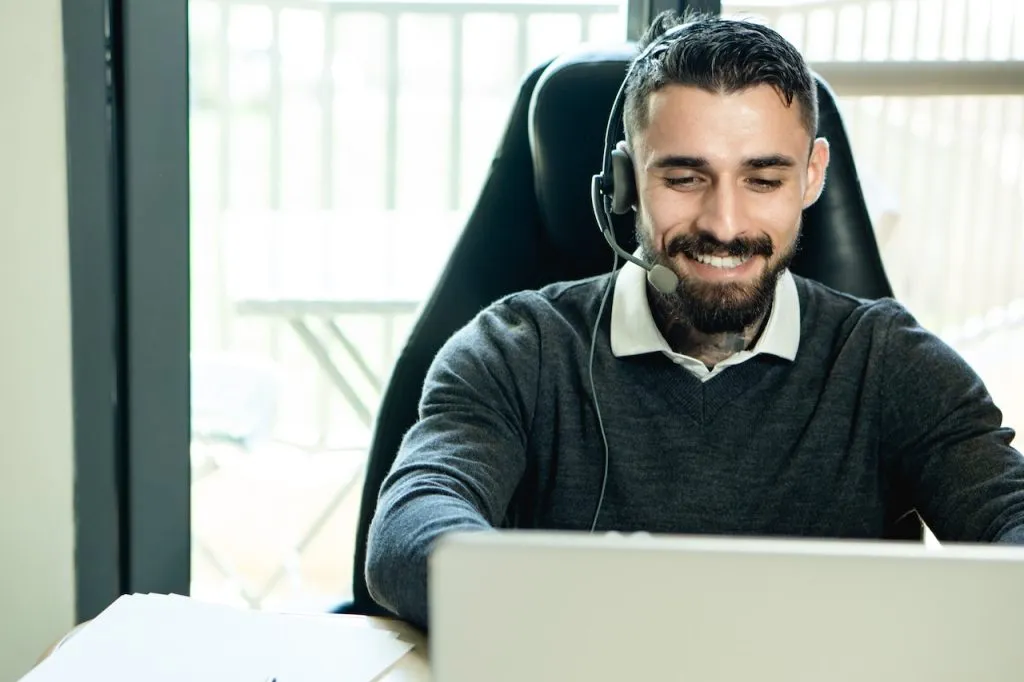 Still Have Questions?
Try our smart home support services!